Revolution is a fun show with small moments of comedy and family drama.
And as I sat through Revolution Season 2 Episode 11, I found myself enjoying those smaller stories.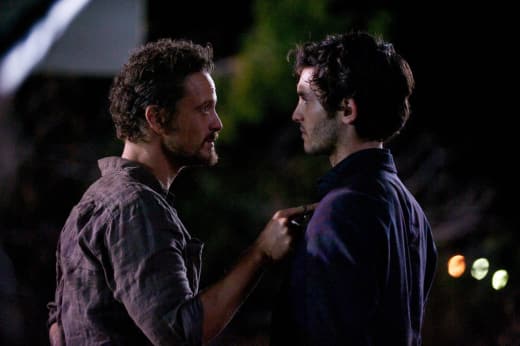 As for the big revelations? I've been burned so many times by the show and its incessant need to provide big reveal after big reveal that I find myself with very little desire to care about said big reveals.
The nanites forming a super brain with the potential for a God complex is just more of the same. We started with figuring out why the power turned off - nanites; then we wanted to turn it on -  the tower - and now the series is giving life to computer code.
The biggest joys came from Monroe and Miles bantering again. They work better as friends than enemies, and listening to Monroe mouth off quips at all the wrong times is an absolute pleasure.
Wow, your boss has really nice taste. It's like Donald Trump threw up on Scarface.

Monroe
There's just something about Monroe - he's a dick, right, Miles? - but there's this almost irresistible charm to him that helps him come out ahead and on top.
Without working his charm and five-minute father advice on Connor, he'd have never gotten out Nunes' house alive; and his son by his side again Monroe has real potential to gain his republic back. His heart hasn't been in it for most of Revolution Season 2, but with a potential heir to the kingdom he's ready to jump back in the saddle.
At the Patriots' encampment, the Typhus outbreak wasn't that surprising because Jason just talked about their goals of wiping people out completely. Truman put on a good face for Gene and Charlie, but it was not hard to figure out that the chemically-laced Patriot oranges were the cause of the Typhus. What better way to reshape the United States than with loyal people one orange at a time?
Aside from Miles and the gang, literally no one has a problem with the Patriots. They're usually welcome with open arms and complete control to take over and do what they like. Why the need to wipe out pockets of people with killer oranges?
Julia's allegiance to her family has been muddy... to say the least. Like Tom, she enjoys the power her new husband brings her and I think she's perfectly content with playing both husbands if it serves her own goals. With Jason now in trouble, though, I think her allegiance is about to shift. She might like the power, but the love for his son is greater.
But, hey, Monroe had his shirt off...even if it was to get whipped by his son.
Is the nanite story getting out of hand?