GET OUT!
A Seinfeld reunion might actually, finally be happening.
Following years of chatter, Jerry Seinfeld appeared today on WFAN's Boomer & Carton radio show in New York and was asked why he and former costar Jason Alexander were seen this week at Tom's Restaurant, the show's famous hangout.
Were they filming an ad? Shooting an episode of Jerry's Web series?
"It's neither, but it is not... not those things either. It's a secret project," he replied.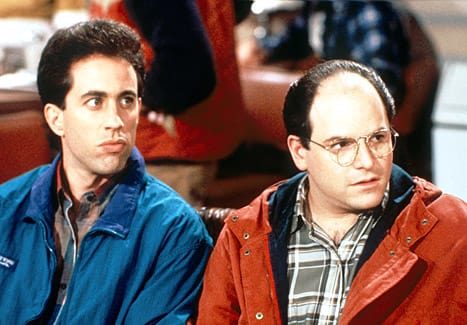 The hosts pushed for more, of course, but Seinfeld would merely say:
"I did! I gave you more now than I've given anyone. I've told you what it isn't and then I also told you that it isn't not that either."
He also teased the following:
Other Seinfeld characters are involved in the project.
Filming is complete.
Its form? "Shortish." But longer than 60 seconds.
Yes, Alexander is portraying George Constanza.
Larry David plays an off-camera role.
Fans will see it "very, very soon."
It is a one-time only deal.
No filming was done in Jerry's apartment.
Whatever form this takes, do you want to see a Seinfeld reunion? Dig through our collection of Seinfeld quotes and vote now:
Matt Richenthal is the Editor in Chief of TV Fanatic. Follow him on Twitter and on Google+.