Over the last couple weeks, Sister Wives Season 4 has featured a polygamist flash mob and an episode based around Kody's struggles with the grill.
But last night's new installment of the TLC hit took on an unusually serious tone.
That's because little Truely - Kody's daughter with wife Christine - fell sick and had to be rushed to the emergency room.
"This is serious," Christine's pediatrician said. "When eyes go crossed, that's emergency."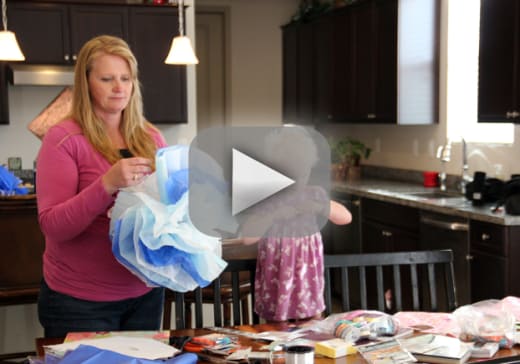 Did Truly pick up meningitis during the family's trip to San Francisco on Sister Wives Season 4 Episode 15? That was the fear, especially when her condition didn't improve after five days.
This health scare put a major damper on what was meant to be a joyous occasion: Mariah's goodbye party, replete with a new car chosen by the recent graduate herself (out of two options, that is).
Having just returned from car shopping with Mariah and Meri, Kody was actually napping and didn't get the text from Christine until Robyn woke him up with the bad news.
From there, he went to the hospital and did all he could to help Truely follow doctor's orders. He even came up with a potty game to entice the little one to pee on her own.
But the family still had to wait nine long days in order for the dialysis to finally kick in, as the three-year old - skinner, but in good spirits, and with a clean bill of health - was finally permitted to return home. Once there, she settled down for a tea party in her honor.
Mariah and Meri, of course, had to leave to drop the latter off at college on their own due to this emergency, but it at least gave mother and daughter some bonding time.
And, as Christine noted after all was said, done and fortunately safe… that's all that matters in life. You've gotta spend as much time with your kids as you can.
Matt Richenthal is the Editor in Chief of TV Fanatic. Follow him on Twitter and on Google+.