Juan Pablo Galavis is getting cozy with the remaining 16 women of The Bachelor Season 18. The kisses will be plentiful and, judging from the previews, so will the tears.
Also, the topless bachelorettes.
Let's get this party started, shall we?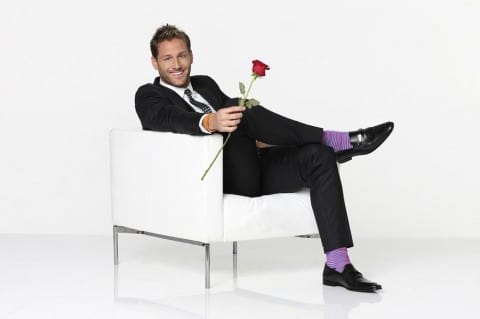 Claire gets the first date and the first rose. The 32-year old hairstylist is really pretty and seems sweet. Juan Pablo comes into the house to pick up his date and all I can think is how bizarre that has to be. 
He blindfolds Claire before putting her in the car in order to surprise her. Plus 4 for being fun, Minus 2 for smudging her makeup.
Claire makes us wish we all had smell-o-vision and describes Juan Pablo's scent as "Heaven in a bottle." 
"Jump on top of me."--Juan Pablo Galavis. Plus 35. Winning the night right there with that comment!
He's taken her to some sort of fabricated snowy place in Los Angeles. 
Claire gives the first "this is a fairy tale" comment of the season. Minus 5.
Back at the house, free spirit Lucy is swimming topless. She doesn't want a one-on-one date with Juan Pablo and believes she'd do better in a group setting. 
Claire says she hasn't felt this alive because of a man in a "long, long, long, long" time. So...it's been a while then, yeah?
Juan Pablo, who lives in Miami, is actually not bad on ice skates. Weird.
Back at the house, Kat gets the next one-on-one date card. But in the winter wonderland, Juan Pablo and Claire are slipping into the hot tub.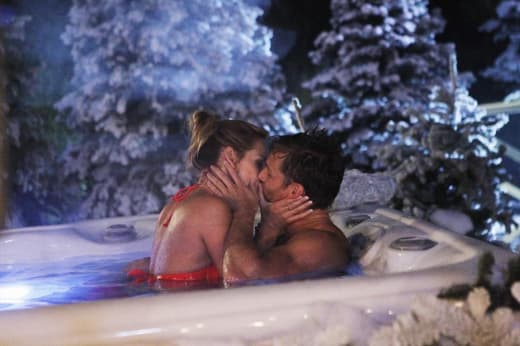 Shirtless Juan Pablo! Plus 10.
Claire tells Juan Pablo a little bit of her history while rubbing his back. I'm not even sure how she's able to form complete sentences because OMG JUAN PABLO SHIRTLESS AND SHE'S TOUCHING HIM. But she does. 
She wears a necklace that says "Crecer" and Juan Pablo asks about it. To her, the necklace is a symbol reminding her to feel. 
He's having a "very, very much good time" with Claire and gives her a rose.
And then Claire gets the first kiss and says that Juan Pablo tastes like snow. Then out of nowhere, Josh Kracjik shows up to serenade them. Plus 8.
Claire says this date goes down as the best date she's ever had. Well, yes, of course it does. Because ABC is footing the bill for it.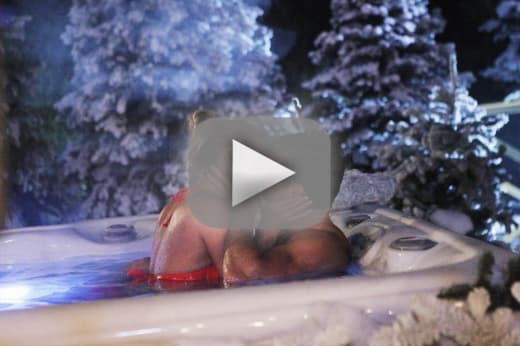 This is the part of the show that starts making me vomit in my mouth a little. So much "best ever," and "fairy tale," and all I can do is shout "THIS IS NOT REAL LIFE" in my head. Hashtag skeptic.
Kat's preparing for her one-on-one date with Juan Pablo. Since she's a dancer, he's...taking her to an airport? 
Kat could be bachelorette Desiree Hartsock's blonde sister. They have similar facial features.
She's "having visions of jetsetting with her Latin lover." This is not real life. Minus 8.
They change into neon outfits lined in flashing lights and deplane in Salt Lake City, Utah. Everything there is glowing and this is pretty insane. 
They're at a...rave? Oh. They're at the starting line of the Electric Run. So for their first date he took her running. Minus 7. I mean, it's fun, but it's not romantic snow blown in just for the two of them. 
Kat's a "woo" girl. 10 to 1 odds she's a woo girl in a bar. He gives her a rose once they reach the stage at the finish line. Plus 3.
Chelsie, Christy, Kelly, Cassandra, Andi, Renee, Lauren, Allie, Chantel, Nikki, Elise, Victoria, and Lucy get the group date card back at the house.
The limo of ladies arrives at a warehouse and Juan Pablo's got a fun group date planned for the women. And by fun, we mean a photo shoot.
A photo shoot for charity. The girls are being paired up with models. Dog models. 
Puppies!!! Plus 12.
"There was some sex. There was a lot of pooping. There was a lot of disorder."--Lucy Plus 4.
The women are all getting the full model treatment and each photo shoot is tailored to the individual dog. Except Kelly and Lucy.
Kelly gets airbrushed to look like a dog and Lucy's costume is a fire hydrant. 
Elise's outfit is...a sign. The first grade teacher was given a nude photo shoot. She's not happy. Minus 12.
Andi was given a sign as well, and she's really not happy. I can't say I blame her. It's kind of ridiculous. 
Elise talks to the creative director and says that she wants to make sure she's always being a good role model. He says that she is being a role model by doing something good for a good cause. 
Clearly, he doesn't get it. Minus 25.
Elise asks Lucy to switch costumes with her and Lucy, who doesn't mind being topless, has no problems with that at all. She even walks the dog naked.
Juan Pablo shirtless! Plus 5.
As the photo shoots begin, the tension rises. The sexual variety between Renee and Juan Pablo, and the dramatic tension between all the other girls.
Andi still doesn't want to go nude for the photo shoot, but Juan Pablo comes to calm her by saying he's going to get naked for their photo shoot, too.
YES!
Andi, Juan Pablo, and Lucy get naked for their photo shoot. Completely naked. She feels "great" after the shoot is over. Probably because she maybe just saw Juan Pablo's "pablito."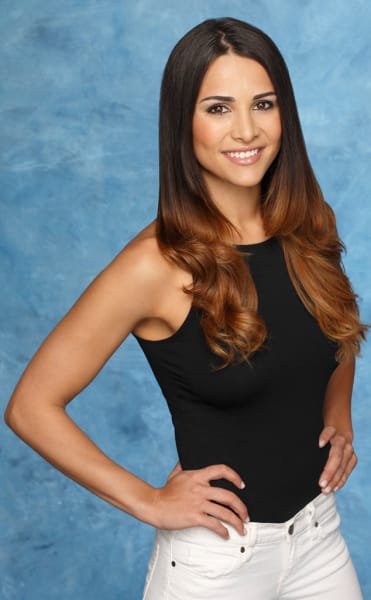 After the photo shoot is over, the girls accompany Juan Pablo to a tower with a rooftop pool. If I'm not mistaken this is the same rooftop pool where Desiree and a date were nearly blown over the side.
They're all angling for one-on-one time with Juan Pablo during the date, but Cassandra really needs that time, so she snags it. 
She's sort of giggly the entire time but she tells him she has a son and he goes ADORABLE! Straight up adorable. Need a screencap of that face he made ASAP! It's so cute!
Renee grabs the time next and she really wants to kiss Juan Pablo. But first they share parenting stories about their kids. He gets such a sweet tone in his voice when he talks about his daughter.
She doesn't kiss him. She tries to get him to kiss her, but he doesn't fall for it. Playing hard to get, Juan Pablo! Plus 8.
While Andi cuts in on Juan Pablo, Nikki and Elise tell Victoria that she's hammered and maybe needs to dial it down a notch. She says she's not drunk. This is how she is sober. 
"If Juan Pablo just happens to be mine, I'm going to straddle him every day. Because that's what life is about. Straddling people and things."--Victoria, very very drunk Victoria. 
Ohhh, girl. Wait 'til you watch that one back.
While Nikki and Juan Pablo are talking, Victoria's in the hot tub. By herself. Dry humping the pool wall.
"Juan Pablo is my boyfriend. I gave him the hymen maneuver."--Very, Very, VERY DRUNK Victoria. Minus 12.
She crashes Juan Pablo's conversation with Nikki by walking into the area where they're hanging out and turning around and going to the bathroom. She bursts into tears by the toilet crying that she wants to go home.
LET HER GO. TRAINWRECK TO THE MAX. Send her home. Minus 25.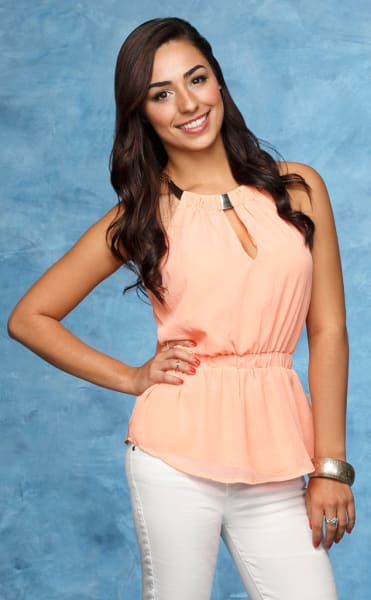 Renee climbs under the bathroom door to take care of her and drunk Victoria just keeps ranting that she's going home. 
"Send me home. I don't give a sh*t." And she heads to the elevator. The bouncers/producers/dudes in charge say "we can't send you home without shoes." 
When they won't let her leave, because hi, drunk girl in a bikini in Los Angeles, (which might not actually be as odd as it sounds?), she locks herself in the bathroom stall again. So far we've been spared the sounds of her puking thank god.
Lucy tells Juan Pablo that Victoria isn't doing well so he goes to the bathroom to check on her where she's crying in a bathroom stall. 
"Can you talk to me for a second?" 
"NO!" Minus 15. 
And he decides to wait for her outside. 
He says he's disappointed but he can't judge her because this isn't a common situation. He feels bad for her and thinks she's just really nervous.
Then he gives the date rose to Kelly who had her entire body airbrushed so she'd look like a dog for the photo shoot.
Juan Pablo asks the girls to make sure Victoria gets home safe so he can come the following day to talk to her. He's the best. Plus 18.
Apparently, she was so drunk and out of control that producers ditched her in the hotel instead of taking her back to the house. Juan Pablo goes to see her and she says she's mortified but I'm not buying it. There's not much about Victoria that says that this is abnormal behavior for her.
"I guess I could have been more adult about it and handled it better..." NO WAY! 
Juan Pablo's not waiting for the rose ceremony. He's kicking her to the curb. Buh-bye. Plus 10.
I'm giving a big 'ol Plus 12 to the m&ms commercial for #ManCandyMonday.
It's cocktail party time and Cassandra needs more time with Juan Pablo. But he gives his time to Amy first since she didn't get a date this week. 
During his turn as Desiree Hartsock's love interest, he was skipped over week after week for dates, so it's pretty cool that he makes sure to give Amy some time. 
But then she goes nuts and asks if she can interview him and does a full news reporter interview with fake microphone. It's so, so weird. She's...weird. Minus 10.
He gives his next bit of time to opera singer, Sharleen, who apologizes for her odd reception of the first impression rose last week. She says that she felt intimidated by the other girls and felt completely shocked that he'd seen enough in her to give her that. 
Sharleen's a good egg. I like her.
Cassandra looks at pictures of her son and gets emotional, so she talks to Mama Renee about whether or not this is the right place for her. Renee escorts her upstairs and Juan Pablo follows after them. 
He's ON IT when it comes to what's happening with the girls in this house. It's uncanny how attentive he is! Plus 13. 
She's GOT to stop saying "like." She has to. It's a thing and I get that, but it makes her sound 15. Cassandra has to stop saying "like."
Juan Pablo says that he wouldn't keep her here if he didn't see something right away. He understands what it's like to be away from your child and he wouldn't put her through that. 
Then he whispers "I think you're cute." Kapow! Plus 3.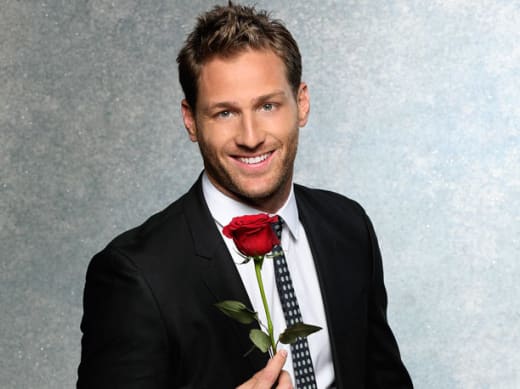 It's time for another Rose Ceremony. Victoria has already been eliminated. Kat, Kelly, and Claire already have roses. 
Joining the ladies who are sticking around for another week are:
Cassandra
Nikki
Andi
Elise
Sharleen
Renee
Danielle
Lucy
Allison
Chelsie
Lauren
Christy
That means Amy and Chantel are going home, but after that ridiculous reporter stunt Amy pulled? Yeah. Good call. Chantel says she's shocked and didn't see this coming. Juan Pablo was everything she was looking for. 
Best of luck, ladies!
EPISODE TOTAL: 24 SEASON TOTAL: 85
What did you think of The Bachelor Season 18 Episode 2? Did Juan Pablo make the right call by sending Victoria home early?
Miranda Wicker was a Staff Writer for TV Fanatic. She retired in 2017. Follow her on Twitter.