For the first leg of their international love affair, The Bachelor's Juan Pablo Galavis and his remaining bachelorettes are flying away to South Korea.
Will the ladies fall more in love with him while abroad? How many times will they liken this experience to a fairy tale?
Will Juan Pablo get one step closer to finding his future wife? On the heels of Sean Lowe and Catherine Giudici's wedding, the stakes feel higher than ever!
One thing's for sure about tonight, the ladies are bringing the drama. Let's get started with our +/- review...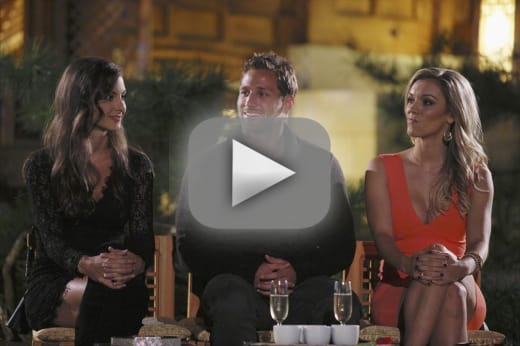 While Juan Pablo travels the globe, he's leaving Camila behind with his parents. Or her mother. It's unclear. Oh well. 
Chris tells the girls they have one hour to pack for their trip to....KOREA. They scream like he just announced they won a zillion dollars a piece! Clare gets overwhelmed and says "I don't even have a kimono!"
Newsflash, Clare. Kimonos are Japanese. Minus 3.
Plus 5 for the Korean citizens in the airport who think these girls are insane.
Nice product placement for the Hilton Hotels & Resorts in Korea. Minus 5.
Nikki's upset that she's on another group date. She wants one on one time with Juan Pablo because she "doesn't thrive in a group setting." She finds the other 5 girls on the group date with her "annoying." 
Juan Pablo loves to dance, so for the first group date, he and the girls are going to dance to K-Pop. Despite knowing that K-Pop is a thing in Korea because Chris Harrison told them it was a thing, they envision they'll be popping popcorn or blowing bubbles on their date with Juan Pablo. Minus 6.
They're going to dance with the Korean K-Pop group 2NE1, the modern-day equivalent of the Spice Girls. 
Juan Pablo dances first and then Kat shows off her former dancer days and throws in a high kick for good measure. Nikki, who admits she wants to throw a big tantrum about the whole thing, does the sprinkler to be a good sport. Plus 4.
I'm going to need a gif of Nikki's inside and outside faces ASAP.
Cassandra, Kat, and Chelsie are stoked to learn that they're dancing on stage in a live performance with 2NE1. Nikki? Not so much.
The 5-story mall where they'll be performing is packed to the brim with people set to watch the performance. Juan Pablo sings along while he dances and the girls manage to hang in there. Most of them get super annoyed with Kat's stage-stealing, but girl can dance, so maybe they ate some sour grapes. Minus 4.
Once they change and head to their next date spot, Kat spots the date rose and grabs him for one on one time while the other girls sit around and talk about her. 
Kat tells Juan Pablo about her parents and her dad's alcoholism and Nikki tells the other girls she thinks Kat acts like two different people. When the cameras aren't around she's one way, but when the cameras start to roll, she snaps into action.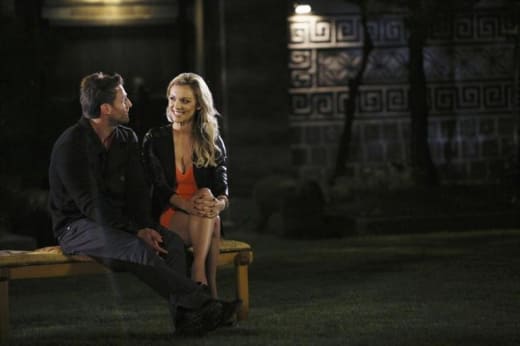 Cassandra's not a fan of the catty behavior and sits silently while Nikki talks behind everyone's back.
Elise (who once did soft core porn) tells Juan Pablo that she doesn't think some of the girls are there for the right reasons. (Flashbacks: "For All The Right Reasons.") She doesn't think some of the women will make a good stepmom for Camila.
Nikki finally gets one-on-one time with Juan Pablo and she tells him that it's hard for her to open up even though she wants to. With him she's all smiles, but with the girls, she's a sourpuss. While they're talking he reaches up and pulls some hair out of her face and it's really sweet. Plus 6.
He asks her how she feels about Camila and she gives the pat answer that she'd love to meet her and thinks she could definitely be a stepmom.
Before Juan Pablo hands out the rose, he asks Nikki for one more private chat. And he gives her another group date rose. 
Sharleen gets the one-on-one date with Juan Pablo. She wanted to get to know him better and he's obliging. They walk through a Korean market snacking on foods and then they go for tea. 
Back at the house, the girls talk about Sharleen and say that she's said that Juan Pablo is boring and they have "dull conversations." Minus 3.
But she doesn't seem to think they have dull conversations at all. She loves his curiosity and the way that he wants to know about other cultures. 
Before the second part of their date, he asks her to sing, which she's reluctant to do because that, she feels, is opening up a part of herself she's not sure she's ready to share yet. She sings and he says "you're good." 
Then they make out for a minute. Plus 30.
This is probably going to sound ridiculous, but it needs to be said. Of all the kissing Juan Pablo has done this season, his kisses with Sharleen are the best. Scale of 1 to 10, I'm giving them a 20.
Juan Pablo says he doesn't think Sharleen understands how much alike the two are and then asks her to talk about Germany and living there. She asks about Venezuela and they share a moment and their experiences.
Then he asks what might turn out to be a deal breaker for Sharleen: How many kids does she want?
She dodges the question by asking him how many kids he wants. He's quick to answer two more. Then asks her again.
She answers truthfully that she's put so much focus on her career that she hasn't really thought about it. She once dated someone with a daughter and it was hard to process. 
He gives her a rose for her honesty. Plus 3.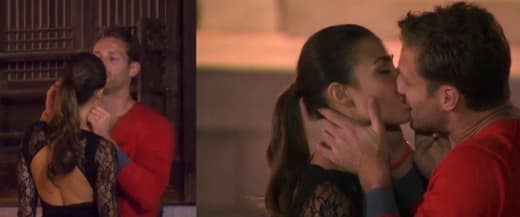 Juan takes the rest of the women back to the market for the second group date. Then he takes them to a karaoke house.. Andi isn't excited about singing in front of people. (Juan Pablo, however, was probably hoping he could sing One Direction again.)
After they sing, they hit the market again and end up in swan-shaped paddle boats. Clare, again, feels like she "faded into the background." Ugh. 
He takes them to a place where they can get fish pedicures and Andi notices Clare's territorial behavior and gets annoyed. And it is annoying. Minus 10.
Clare says she doesn't want to eat octopus and calls it the "epitome of her fears." Really, Clare? Really? Juan Pablo buys octopus the first chance he gets and she goes quasi-drama queen about it. Ugh. Minus 8.
Juan Pablo grabs Renee for one-on-one time first, and she's one of the few remaining girls who haven't kissed him yet. But she's wanted to kiss him. She wants to kiss him. But she's so scared to kiss him.
He has decided he's not going to kiss any girls tonight because he's already kissed 6 of the girls. So Renee misses out again. 
He and Andi chat about hobbies and joke around with one another and he has a really hard time not kissing her. But he doesn't! Good boy, Juan Pablo! Plus 5
Lauren, who might be a little drunk, asks Juan Pablo to dance with her. Then she asks him for a kiss. He shuts her down because he has a daughter and doesn't want his daughter to see him kissing all those women. Which would be a legitimate reason if they didn't all know he's been kissing some of the other women. 
Oops?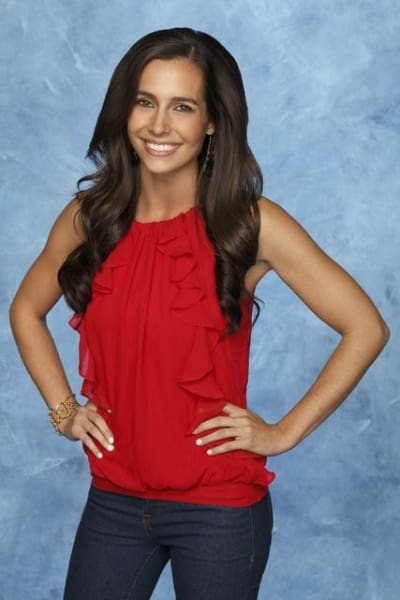 Lauren's crying and eventually talks to Juan Pablo about the kissing and doesn't really make her feel any better. But hey, he tried.
Clare's turn for one-on-one time with Juan Pablo comes and while they walk away, Andi and Kelly make fun of her. It's actually pretty funny. Juan Pablo abandons his quest not to kiss any of the girls by kissing Clare. "It just felt right," he said. Mmmhmmm.
She's not really one to stay quiet about things like that, so we can probably expect some drama between her and Lauren. Probably.
Andi gets the date rose. Plus 9.
It's finally time for the cocktail party and rose ceremony and Juan Pablo isn't oblivious to the drama between the girls. He snags Kelly first and while they talk, the other girls sort of decide that those with roses--Sharleen, Andi, and Nikki--will give the other women time with Juan Pablo.
Clare jumps at the chance for more time with Juan Pablo and while they chat, Nikki, who has a rose, decides to crash. Clare is not standing for that.
Sharleen ponders aloud with Andi and Danielle whether or not Juan Pablo can see the tension between them. Andi and Danielle think no. And right after that, Juan Pablo drops the hint to Nikki that there's drama in the house. She goes to chat with Kelly and pretty soon, Clare joins them. On purpose.
Clare's "just going to be honest" with Nikki. Nikki's two different people and it "rubs people the wrong way." Clare doesn't think Nikki's behavior with the other girls is rose-worthy.
Nikki's reply? "Well, you're not handing out the roses." Plus 12.
And it's time for the rose ceremony!
Andi, Nikki, and Sharleen are safe for another week!
Toggle through the slideshow to see which lovely ladies are left!
Juan Pablo sent Lauren and Elise home. Elise was "super disappointed" and doesn't understand what other girls have that she doesn't. "This is messed up," she says. "Who knows what's in store now!?" 
Is Bachelor Pad happening again? Because she's perfect for that.
Lauren's "definitely hurt." She blames the fact that she made a move for a kiss as the reason she was eliminated. Maybe it was. Maybe it wasn't. 
EPISODE TOTAL: 50 SEASON TOTAL: 166
Next week Juan Pablo and the women are headed to Vietnam, and the previews promise even more drama than tonight! Some of that drama involves Clare, who was all up in the middle of it tonight. That leads us to ask, are you Team Nikki or Team Clare?
Miranda Wicker was a Staff Writer for TV Fanatic. She retired in 2017. Follow her on Twitter.