There are certain rites of passage that everyone experiences in high school. Whether you loved it or hated it, one of them was prom.
The Carrie Diaries Season 2 Episode 12 featured Carrie and her crew heading to the big dance together.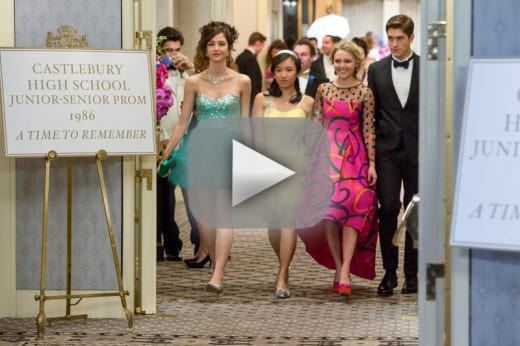 It's hard to believe that this was the penultimate episode of The Carrie Diaries Season 2, but believe it! The gang has almost wrapped up their time at Castlebury High together; unless you're Sebastian and already out in the real world.
What's next comes up to them, but for now they had one of the biggest traditions of high school left to face together. Donna and her impressive rack managed to raise $10,000 extra and got the prom moved from a local inn to the famed Waldorf Astoria. However, once it was moved to NYC, Walt was almost ready to stay home.
It's a good thing that Maggie wasn't still bitter about her break up with Walt and was such a good friend. Despite the fact that the group was already attending together, Maggie reminded Walt of a promise they made as freshman to go to prom with one another. She ditched Pete for the night and insisted that Walt go with her, even if it was lame.
As seniors, prom is a traditional right of passage, a time to get dressed up, make memories, and acknowledge for just one moment that you are at the top of your high school game.

Carrie
Speaking of lame, Dorrit only agreed to go with her new man if they embraced the lamest possible prom cliches. Little did she know that he was playing her because he really just wanted to go. I like him, Dorrit landed a good egg. If it takes her twisting things around to think he's sort of devious, then so be it!
Walt realized after watching the other couples on this momentous occasion that there was really only one person he wanted to be with. Walt had been in denial, living at his parents home, ignoring his sexuality for months, but his overwhelming feelings for Bennet came to the surface. I'm glad they did as I always thought they made a great couple.
I'm also extremely glad that Walt stood up to his parents and his father ended up accepting him in the end.
It was random that Weaver popped up at the Waldorf. I know he was there to give Carrie some sort of closure, but she should think about why she would take Weaver's advice to ditch NYU for Interview above anyone else's advice. Why is Weaver's opinion still so important to her? Shouldn't Sebastian's matter more, or her father's? Most of all, Carrie needed to decide how she felt.
Well whether or not Carrie was entirely sure in her convictions, she told her dad that she wouldn't be attending NYU. He was furious, as Tom is a pretty traditional guy. I understand both sides of the argument and am not sure whether or not Carrie made the right decision. It kind of scared me when she said that Sebastian was basically all she had, especially since Sebastian has his own dreams and is making plans to head to California.
If Carrie wants to forgo NYU and jump straight into working for Interview, she needs to do it for herself and no one else. Do you think Carrie made the right choice in choosing Interview? Vote below and then sound off in the comments!