The Originals Review: No More Boys Club
Miranda Wicker at . Updated at .
So, now that an hour has passed since the credits rolled on The Originals Season 1 Episode 10, I feel like I'm in a place where I can form coherent sentences about the MAGIC we all witnessed tonight with this installment.
This episode is a special one for me because I was able to be on-set during its filming last November, so maybe it feels extra electrifying. But somehow, judging by the way Twitter absolutely blew up, I think I'm not alone in my feelings of elation and excitement over The Originals return from the winter break.
This really is a new chapter for the story of New Orleans, and it's one I can't wait to read.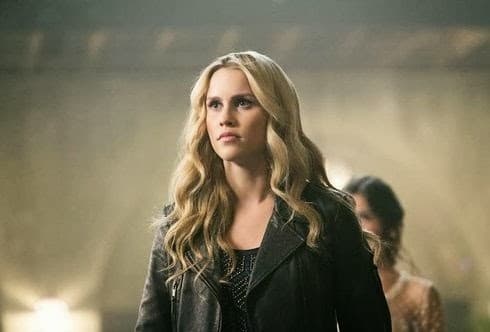 "The Casket Girls" takes place around a a special festival in New Orleans of the same name which honors and remembers a time when women where brought into the colony and promised that they would become brides of wealthy gentlemen. In reality, they were used and then tossed aside, much like the female characters feel they have been.
Until tonight, that is, when they slowly begin to join forces to take back their power.
Davina is busy wiping Cami of her compulsions, and while she's helping Cami remember, the other witches learn that Klaus and Marcel no longer have her in their compound. This allows them to practice magic without Marcel knowing about it, so they do, and they attempt to locate Davina. 
But she senses them coming and Cami, who remembers everything, decides they need to flee. While they try to get out of the city, Klaus captures Tim for leverage against Davina and then her gloves come off. 
That scene with Davina and the vampires? 
You guys. It was intense. In. TENSE. I had my jaw clenched the whole time and realized it half way through the commercial break that followed.
Watching her manipulate Klaus and Elijah so easily, forcing Klaus to turn into his werewolf-self, causing Elijah to choke on his own blood. It was kind of insane. 
No one has ever been able to control those two with magic the way that she can. No one has ever been as strong and powerful as she has been either.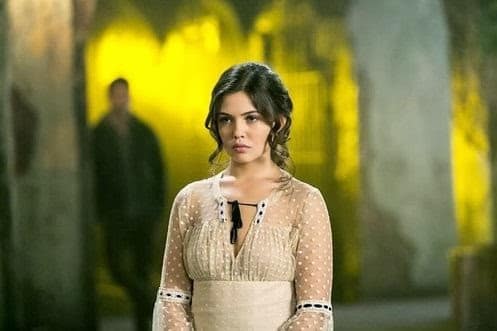 Davina is a force to be reckoned with and as her power grows, she becomes a bigger and bigger threat to the originals, and probably to herself, though that remains to be seen. At some point, I foresee them being forced to complete the Harvest ritual as their only way to save Davina from herself. Charles Michael Davis said that we'll see the Harvest ritual in two weeks, so we'll see if I'm right.
Thanks to Marcel and Elijah, Davina should last at least until then, but definitely no thanks to Klaus, who tried to kill her and who did kill her friend Tim. Davina isn't going to forget that and losing Tim is going to be one more nail she slams into his coffin.
Speaking of friends, the friendship between Josh and Davina is something amazing to watch. Week after week, I'm terrified he's going to have his heart ripped out by Klaus, but I'm hopeful that he sticks around. Having a newbie vampire among all of these old ones is kind of refreshing.
Rebekah understands that in order to get things done, she has to do them differently than Klaus and Marcel. One of her methods for getting what she wants involves bringing those who've been wronged by her brothers to her side.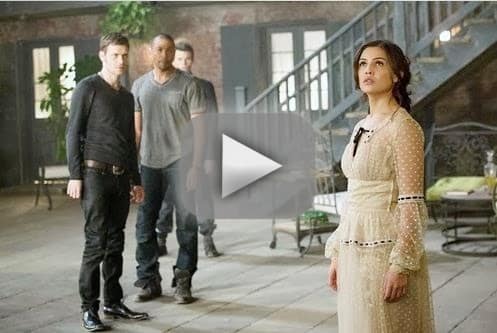 If Rebekah has anything to say about it, Josh will be sticking around. She recognizes his friendship with Davina is something which the witch values and if she wants Davina on her team, Josh is coming aboard as well. Rebekah needs as many allies as she can get, so something tells me she's okay showing the youngster the vampire ropes.
Or she'll just get Thierry to do it. (And hey, did she let Tyler go, too? What's going on with Tyler?)
Claire Holt positively shined as Rebekah tonight and proved just how underestimated this "fairer" original has been. Her brothers and Marcel have counted her out in being able to reign over the city, believing her incapable. She just can't stand for that. 
The idea that the next chapter focuses on Rebekah subverting the boy's? Yeah, I'm down with that.
In saving the most shocking things for last, see Exhibit C. For Celeste.
Sophie needs to consecrate the remains of a powerful witch in order to gain that witches' power, and the only witch she can think of is Celeste, Elijah's dead former lover.
Hayley helps Sophie find Celeste's burial site in exchange for the promise that Sophie will free her family. 
Some might believe that this is a way to drive a wedge between Hayley and Elijah after the chemistry has been building between them all season. (And holy smokes, the heat! That scene with the dress and the zipper and the "you might have to use all your vampire strength" line? Hot!)
I, however, see this as an extension of the now-familiar refrain "family above all." Elijah is nothing if not loyal to his family and there will be a part of him, once he realizes Hayley's complicity in unleashing Celeste, that forgives her because he understands that what she wants more than anything else is to find her family and put it back together, much like he does.
But that Celeste thing is going to get all up in their way. 
She's the "thing" that Davina has seen coming, and Davina believes she's evil. Maybe she is. Or maybe she's Qetsiyah-level crazy. Or maybe she'll be so happy to see Elijah she forgets all about whatever vendetta she's been planning for nearly 200 years.
Whether or not she'll manifest herself as a physical being or in Sophie's body is sort of irrelevant. Part of me really likes the possession possibility and I'm not sure why. Maybe because it would get Sophie Deveraux on our screens more regularly.
In all of this, Cami is the wild card. She's the human element. The conscience. And right now she's hurt and betrayed and Klaus needs to find a way to mend that fence, however he can. She can be an ally or an enemy and he needs all the friends he can get right now.
It can't hurt to try, right?
What did you think of The Originals Season 1 Episode 10? Was this return everything you hoped it would be and more? Check out The Originals quotes page and then grade the mid-season return below!
Miranda Wicker is a Staff Writer for TV Fanatic. Follow her on Twitter.