YES! American Idol GROUP SING! The weekly promo for the Idol summer tour! What a way to kick off the show!
If you can't read the sarcasm dripping from that opening, please re-read with appropriate levels of snark. I can wait.
Now then. Let's spend approximately 52 minutes finding out who's going home this week, shall we? Yes, we shall.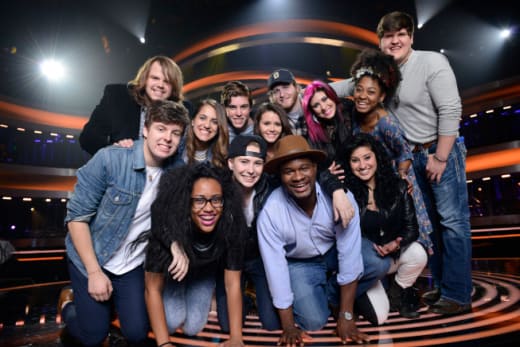 Thanks to the new ways to vote this season--or not--over 71 million votes were cast in the first week of Idol. Based on last night's performances, I have Kristen O'Connor, Malaya Watson, C.J. Harris, and Dexter Roberts as my candidates for the bottom three/four.
We're getting a lot more candid, behind-the-scenes video footage this year and it's nice in some ways. We get to see the contestants hanging out which shows their personalities a little more, but it feels slightly contrived.
Malaya Watson, Jena Irene, Ben Briley, and Alex Preston are the first to join Ryan. 
During rehearsals, Randy Jackson tried to get Malaya to control her performance. The song still got the best of her on the live show. Jena, he felt, did a good job getting the emotion of "The Scientist" across to the audience.
Randy thought Ben Briley's "Folsom Prison Blues" was too fast. He loved that he put his own spin on it for the live performance, but still called it "brisk." Alex Preston did a great job.
(Yes, Randy, yes he did.)
Ben Briley is the first to learn that he's safe for another week. Alex Preston joins him in the lounge. Jena Irene is safe and Malaya Watson is in the bottom 3.
I want to say that I know how to pick 'em, but it feels a little premature. Jennifer "isn't happy" that Malaya is at risk of going home, but Malaya says that she didn't really like her performance when she watched it back and knows she could have done better.
Candice Glover is in the house to sing a medley of "Cried" and "Same Kind of Man." It's nice. 
MK Nobilette, Majesty Rose, Sam Woolf, and Dexter Roberts join Ryan next.
Randy loved MK's makeover and ability to stay true to herself for her "dope performance." Sam will be "money" if he can get his performance to match his singing ability. 
Majesty was "fantastic" and made the song her own. Randy tried to give Dexter tips to make "Aw Naw" sound like an original performance, but Randy didn't feel he quite made it.
Dexter Roberts is safe and joins the other Idol's in the lounge. Majesty Rose is safe as well. Sam Woolf is safe for another week and MK Nobilette is in the bottom 3.
SHOCKED! Shocked, shocked, shocked!! She and Malaya are both visibly bummed to be in the bottom 3, which makes sense, but is still sad to see.
Jake Bugg is on the Idol stage and Sam Woolf better be taking notes. That's how to play it when you're a teenage guy with a guitar, Sam.
C.J. Harris, Kristen O'Conner, Caleb Johnson, Emily Piriz, and Jessica Meuse meet Ryan on the stage.
Randy says that as a judge for 12 years, he knows what the trio are looking for. C.J. has to stay in tune (which he did not). Kristen didn't sell her song and get her message across like Randy thought she should have. Caleb is totally aware of who he is. 
Jessica sings effortlessly and owned the night. Emily made a great song choice, but a tough choice. She sang beautifully but lacked edge.
Kristen O'Connor is in the bottom three. Everyone else is safe.
I'm two out of three on the night, so I'm feeling pretty good about my record this year. 
MK Nobilette​ gets the quick news that she's safe and heads back to the lounge to join the others. Malaya Watson will also be sticking around for another week (or more.)
Kristen O'Connor sings her rush week song, "Turning Tables," for the judges' save, but honestly, I can't see them using it for her. With MK hitting the bottom 3 in the first week while clearly deserving to be here longer, there's no way they'll burn the save in the first week on a wild card contestant that America already voted off once.
The judges do not use their save, so Kristen's going home. Did America make the right call? Should the judges have used the save tonight on American Idol?
Miranda Wicker is a Staff Writer for TV Fanatic. Follow her on Twitter.