Ahhh, Group Round. Viewers' least favorite part of American Idol. Seriously, next to the cheesy big group numbers during performance weeks it doesn't get worse than group rounds.
At the end of a long day of auditions, contestants arranged themselves into groups of three or four and learned a song plus choreography to perform for the judges. It's always grueling and slightly absurd. 
Most of them get no sleep. At least 15 of them are total Divas. Dreams are immediately crushed as sometimes entire groups are sent packing.
Let's see if any of that happens tonight...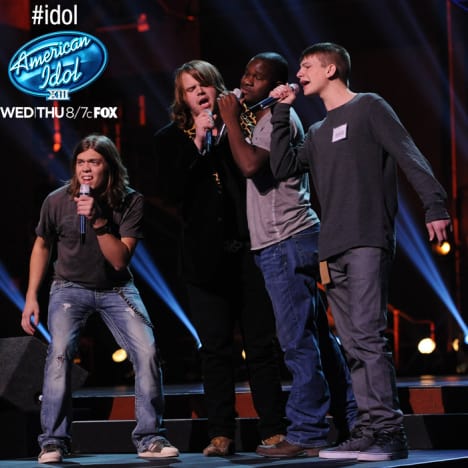 Three More Days--David Oliver Willis, Sarina Joi Crowe, and Tony Foster, Jr.--are Idol audition veterans who have been through group rounds before. David puts down his guitar as they sing "Too Close." They have decent harmonies and each take their turns in the spotlight before ending the number with an a cappella riff session that really sets them apart. J.Lo didn't like that their choreography fell apart in the middle, but thought they stood well on their own. David and Sarina are asked to step forward. Tony gets sent home again and leaves with good, useful critique.
Dexter Roberts, Casey Thrasher, and Ben Briley are calling themselves the Backstreet Cowboys. And in their plaid shirts and with their country twang, they sing Backstreet Boys' "I Want It That Way." It's actually a really good choice because it lets them show the judges that while they're country boys, they're not afraid to try something different. Dexter really shines, as does Casey. Ben struggles the most. Keith loved that they sold their performance even though it wasn't their usual thing. They all advance to the next round.
The ladies are killing it during group rounds with two all-girl groups getting an instant advance to the next round.
Spencer Lloyd partnered with Megan Miller and Alyssa Siebken and didn't want to practice. He knew the song. They didn't. He shined during the performance while both girls forgot the lyrics. Jennifer tells them they needed a backup plan. If someone forgets, someone else jumps in and picks up the slack. Megan and Spencer make it forward and Alyssa gets sent home.
Madison Walker, 15 years old, also went home. So did Keith London from Boston and Austin Precario. Stephanie Petronelli, cheerleader, went home, as did Adam Roth, the sound healer.
Tiquila Wlson wants to be a gospel singer, so she cuts herself. She knows that American Idol won't be the competition or platform for her.
Harry lightens the mood by pretending to quit, flipping bleeped out birds at the other judges, and just being his crazy self.
The Freedom Breathers, Mathew Hamel, C.J. Harris, Caleb Johnson, and Tyler Ahlgren, sing a jacked up rendition of "Too Close." Tyler kicks it off by forgetting the lyrics. Caleb rocks out with a mic stand. C.J. doesn't get much of the spotlight, but that's because Caleb tries to hog it all. Harry tells Caleb he was "next to closing" and owned the performance. Caleb and C.J. advance while Tyler and Matthew get cut. 
Clarity, comprised of Munfarid Zaidi, Jena Asciutto, Sikenya Thompson, and Allie Odom, step on the stage to sing. Last night, Sikenya ditched her group members to rest and then they covered for her when they stepped on stage. Munfarid looks like a fish out of water in a group. Allie Odom is sent home and as they're leaving Sikenya tells her she'll have a front row ticket waiting for her at her next show. 
When John Fox gets cut, Savion Wright has a breakdown over losing his friend. 
Jessica Meuse, who had to find herself a new group last night, gets on the stage and before the performance tells the judges that her group fell apart the night before and she's struggling to remember the lyrics to "Single Ladies." Nica Nishae knows the song. None of the rest of them do. Stephanie Hanvey, Cara Watson, and Jessica Meuse all forget the lyrics. Nica Nishae tries to come in with the save. It's a campy and ridiculous trainwreck. Nica, Cara, and Jessica go forward. Stephanie's mom supports her from the balcony. And by support I mean rip into the other girls.
Love's Angels--Emmanuel Zidor, Terrica Curry, and Carmen Delgina--sing "Say My Name." Carmen actually seems more comfortable in the group performance than in her solo audition. Emmanuel did a decent job with what he had. Terrica was there. Harry wished they had chosen a song with a melody. They keep Emmanuel and send Carmen and Terrica home.
The final group of the day, Loud and Fierce, is Malaya Watson, Christina Collins, Olivia Diamond, and Queen Bulls. They sing a Motown throwback and have the most coordinated look of any group besides the Backstreet Cowboys. They all make it to the next round.
There are 77 contestants remaining after Group Round, which means that the judges have extra cuts to make before we arrive at anywhere near a Top anything. I'm just glad Group Round are over, no matter how many they cut from the competition.
What did you think of tonight's American Idol? Are you a fan of Group Round?
Miranda Wicker is a Staff Writer for TV Fanatic. Follow her on Twitter.