It's another round of solo singing on Hollywood week on American Idol. By the end of this week, the judges will have narrowed down our contestant field from 70 to the Top 30 for 2014. 
The talent this year has been greater than in years past, but this is the point in the competition when things start getting tough for viewers at home. By now we've started getting to know some of these faces and over half of them won't be sticking around.
For some, there's always next year. But for many, this is the end of the road.
Who'll be staying to sing another day and who'll go home? Let's find out now...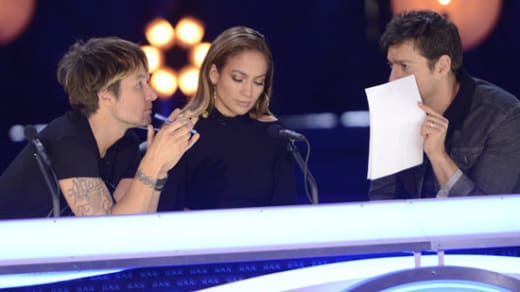 Before the singing begins, Harry Connick Jr. addresses the crowd to give them one of his pet peeves. He doesn't want to hear the contestants whine before they perform. In fact, he never wants to hear how they feel at all. He came to hear them perform and saying "I don't feel well" just tells the judges how they're supposed to feel about the contestants.
"Just suck it up and sing." PREACH, Harry. 
Emily Piriz auditioned in Atlanta and this is one of the few times we're seeing her. She played piano in her final solo performance and wowed the judges. She has a really nice voice and definitely star quality. She could hit up the Sara Barielles-lane and go pretty far. She makes the walk into the judges' chambers and Jennifer fakes her out making her think she's not staying around. But she is! 
The first guy to go before the judges is Spencer Lloyd. He's been a favorite since his audition in Texas. He sang an original song during his second solo round that didn't leave the judges with a great impression. The lyrics were pretty dumb, actually, and didn't, according to the judges "showcase him in the best way." With Spencer on the verge of tears, Jennifer tells him he's sticking around.
Another original song singer, Jillian Jensen, chose to do a song of her own to show that she can have longevity in the industry. She sort of chews on the lyrics a little bit, but it's better than Spencer's. Jillian has a great artist look about her. Harry starts talking about what they're looking for and how sometimes the judges don't agree and Jillian starts to cry and then Harry says she's in.
Madelyn Patterson auditioned in Austin and she's a crier. She's a tiny girl with a big, big voice. There's a little church in there, too. Keith tells her that she's had great performances over the course of the competition, but she's going home.
Michael Simeon, Lebryant Crew, and Sabrina Lentini​ also hear that they're not making it to the Top 30.
George Lovett, who auditioned in Atlanta, pulled out all the stops during his final solo audition and got a standing ovation from Keith and Jennifer. J.Lo doesn't take her time telling him that he's in the Top 30.
Sam Woolf took a risk on his second audition and sang an original song he wrote when his mom moved away. While most of the original songs showed a lack of originality, Sam's didn't. His was from the heart and moved the judges. Jennifer tells him this was the most intense week like he didn't just live it. Then she tells him that he really could be the next American Idol and he's staying.
Keri Lynn Roche chose an Etta James number for her final solo audition. She's an awkward chicken kind of performer, but she has a great voice and a great look. Keith tells her that there's been an amazing level of talent this year, but they only have 15 spaces available and none of them are hers. 
Up next, 16-year-old Malaya Watson heads off to meet the judges. She was in a group with a crazy person during group week and chose Fantasia's winner's song for her solo audition. It got off to such a bad start Harry made her go back and start over. And then she nailed it. She got a standing ovation from Jennifer. When she walked into the room, Harry said her name wrong and she quickly corrected him. Then he said "I'm glad you corrected me because that name has star potential." And she's in the Top 30.
Another Detroit auditioner, Maurice Townsend, heads in next. He sang Miley Cyrus' "Wrecking Ball" during his solo audition. It's hard to hear anyone other than Miley sing this song and he pretties it up a little too much for my taste. It's an odd choice that Harry calls smart because of the arc into the chorus. Keith says that he's a good singer, but there's an undefinable thing that contestants have to have as well. He doesn't have it, apparently, but they want to see him in the Top 30. At 26 years old, he might be the oldest contestant this year and suffer from Elise Testone-syndrome.
Bria Anai Johnson speed walks her way to the judges. She's a bundle of nerves, but on the stage, she was in the groove with "This Is A Man's World." Jennifer tells her she made it into the Top 30 and she runs out of the room to fake out her mom! 
During group rounds, Jessica Meuse​ found herself in the center of some drama. She sang a Beyonce number which isn't her speed at all because that's the only group that would have her. During her solo auditions, she sings an original number called "Done" which she says is "about an idiot." She's a singer-songwriter and that's what she wants to showcase. There's a Bonnie Raitt-Stevie Nicks vibe to her voice, but with way too much edge. 
Jesse Roach never thought she'd be seeking a career in music. She chooses "Wide Open Spaces" for her solo auditions and it's a little lackluster, probably because she forgot her lyrics.
The two go into the judges room together to learn their fates. It was too close for the judges to call the day before, so the girls are going to have to sing again. Right now. Jessica Meuse goes first with "Simple Man." She's got a weird rasp in her voice that isn't bad but definitely different. Jesse Roach sings "Do Ya." Her voice is the clearer of the two, but she's kind of boring.
They send Jessica through.
Dexter Roberts walks into the judges room "scared to death." Keith says people in the competition can't be phony, "all hat no cattle." Dexter gets into the elevator and cries and lets out a scream when he gets back into the holding room. He's in the Top 30. That was a good choice.
Former airline worker Emmanuel Zidor​ "literally left his blood on the floor" during his second solo round. (He's also wearing the same shirt. Maybe it's a lucky shirt.) I really like his voice, but I don't necessarily like him. He breaks into an ugly cry in the judges' chambers and has J.Lo in tears. And it's through those tears that she tells him she'll be bringing him a pair of shoes next time she sees him. He's in the Top 30.
MK Nobilette is sitting in the room with the judges talking about how hard it is to see people going home when they've all gotten so close and they all want the same things. MK had a rough group round performance, but was back in her lane for her solo audition. There's something really intriguing about her and her voice. Really intriguing. She makes it to the Top 30.
Kristen O'Connor is a nurse who decided she wanted to be a singer. She chose "Unconditionally" by Katy Perry for her final performance. She's pretty, her voice is great, but she's a little dime-a-dozen, sort of reminiscent of Pia Toscano. She acknowledged that she didn't get any sleep the night before her final performance, breaking Harry's rule, and J.Lo said that's what this industry is all about and those who make it are those who just keep going. (J.Lo has a notoriously crazy high work ethic, in case you haven't heard.) They put her into the Top 30.
15-year-old Jordan Brisbane still believes he has what it takes to shut American Idol down. He sings "Halo" during his final solo audition. This boy has a big, big voice. It's his birthday, so he's finally 16. He's been singing for a decade and Keith says the hard part of their day is having to say "no" to people. Jordan hasn't heard a lot of no in his life because he's so young. He's not hearing it that day, either. Happy birthday, Jordan!
Casey McQuillen​ gets a no. So does Nica Nashae​. 
Leah Guerrero and Andrina Brogden are asked to go up to see the judges together. Leah has a really cool voice. Really cool. Andrina has a whole package going. This is kind of a tough decision between these two. Leah doesn't make it. Andrina does. Harry tells Leah she's really talented and not to quit.
When the two walk back into the room with the rest of the contestants, no one can cheer for Andrina who wants to be happy and deserves to be happy because Leah is so sad. Not a fan of the 2 by 2, Idol.
Malcolm Allen sang "I'm Goin' Down" for his final solo audition. Hopefully it's not a premonition and he's just going up, up, up! He has a great voice! Harry says they're trying to find the top talent and then says he's made it through. 
Salt Lake City contestant Alex Preston makes interesting and unconventional song choices and so far, that's served him well. He does it again and walks into the judges' chamber with his guitar. Alex is a multi-instrument musician with a style completely his own. Keith says he's glad Alex has made it this far, but they can't take everybody. But they're taking Alex!!
The judges call CJ Harris and Casey Thrasher back at the same time. The two have become friends over their journey on Idol, and now it seems it will be the end of the road for one of them. Casey sang "Amazed" during his solo audition and CJ played guitar on a Sam Cooke number. Based on those two performance clips alone, CJ stays. 
Harry says that this, their similarities, make this decision incredibly hard. He needs them to sing again on the spot. CJ jumps up first and sings without his guitar for only the second time in the competition. He's jazzy and Bluesy and I like him.
Casey clears his throat and jumps into a fun little number that makes CJ look worried. The judges don't take long at all to deliberate before telling Casey that...
To be continued. DRAT! Cliffhanger! 
So far, the following contestants have made it into the Top 30, and we'll round out the rest of the list tomorrow night. Live performances will begin next week.
GIRLS:
Emily Piriz
Jillian Jensen
Malaya Watson
Bria Anai Johnson
Jessica Meuse
MK Nobilette
Kristin O'Connor
Andrina Brogden
GUYS:
Spencer Lloyd
George Lovett
Sam Woolf
Maurice Townsend
Dexter Roberts
Jordan Brisbane
Emmanuel Zidor
Malcolm Allen
Alex Preston
What do you think of the American Idol Top 30 so far? Will it be CJ or Casey who joins those listed above?
Miranda Wicker is a Staff Writer for TV Fanatic. Follow her on Twitter.