Last night we learned the names of the first 17 American Idol contestants to make it to the Top 30.
MK Nobilette was quite the standout, becoming the first openly gay contestant in AI history. Jillian Jensen shined as a singer-songwriter, proving she has what it takes to have a long music career.
And as for that cliffhanger ending between C.J. Harris and Casey Thrasher? Well, let's just see which of them will make it through...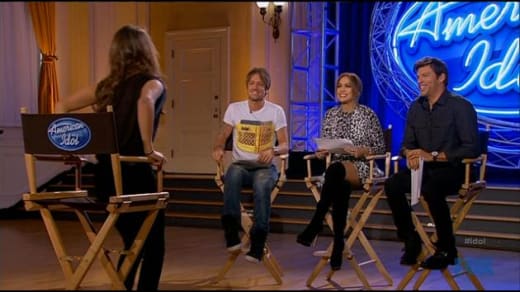 Harry starts with Casey and says that they've concluded that he's going through to the Top 30. C.J. looks like he's going to tear up and Casey immediately tries to bro-hug him. He made it through too!! Both Alabama boys are going to the live performances! Dexter, another Alabama boy, gives them both a big hug.
Marialle Sellers is a nervous wreck in the holding room. She chose "Wrecking Ball" for her last chance solo and pushes really hard to stand out. Harry says that since the first time they saw her in auditions, they've gone back and forth on whether to keep her around. She's had a lot of inconsistencies in her performances. "I'm going to bring it every time I'm on that stage," she says. "That's a pretty big presumption," Harry replies. But it's an accurate one. She nabs a spot.
Jena Asciutto sang an original number for her solo. She hit a big note and J.Lo and Keith made notes in unison. She has a great voice. Harry doesn't waste time telling her she's made it and calls her a "sleeper." No one will see her coming.
Returning contestant Caleb Johnson (who is still having an identity crisis) has made it this far before, in Season 11. He tackled "Radioactive" for his last chance solo and it was a good choice. Particularly since he didn't forget the lyrics this time. It wasn't as good as Imagine Dragons and Kendrick Lamar at the Grammys, but it was solid for American Idol. Harry calls him a "costumed character" and wishes he could just be less that. Harry asks him if he thinks he's a good singer, and Caleb says yes, he does. Season 13 is Caleb's lucky season. He's in the Top 30.
With only three spots left for the guys, Ethan Harris hopes one of them is his. He's the pop-country hopeful this year and chose "Amazed" for his solo round. He's an awkward turtle performer and Keith thought he made a "crap song choice." Jennifer tells him that he had some very tough moments during the week and it makes her sad to have to turn people away. But he's not one of those people. 
Sarina Joi Crow and Nalani Quintello are turned away. David Oliver Willis gets a no as well, and that's a mistake. He's fantastic.
Majesty Rose York forgot her lyrics during her solo round, which is usually a nail in the coffin. But the judges love her, so even with the flub, she's sticking around.
Briston Maroney, who is only 15, hopes he's put everything he has into his performances. What he has is quite odd. I can't decide if it's a good odd or a bad odd. He takes his guitar into the judges' chambers to hear Harry tell a tale about his life after his mom died and he wanted to go to New York but his dad wouldn't let him. But that's not the case for Briston. He's in the Top 30.
Returning girls Brandy Neelly and Briana Oakley are called up together. If they can ever get there, that is. The elevator gives them a little bit of trouble. Brandy has an amazing voice. She's a powerhouse. Briana is also crazy talented. Harry starts his speech saying that yesterday some mistakes were made by various contestants, but doesn't point to either of them specifically. Keith says "we have to narrow it down. We have to have the best in there." And then he says they're both going through!
Kenzie Hall starts crying before the judges can even start to speak. She dedicated her final performance to her mother and gave her worst performance of the week. But despite the roughness of that final audition, she did enough to impress the judges throughout the week. She's in!
Savion Wright walks into the room playing a ukelele. He says he felt like he showed the judges who he was during the week. He sang an original number during the solo round and while Harry felt it was flat, Keith was impressed by his guts. Then he tells Savion that it's a no for this year. He has a great future ahead of him and Jennifer hopes he comes back next year. This was another mistake.
With only two spots left in the Top 30, Sandie Lee and Austin Wolfe, neither of whom we've seen very much, head in to see the judges together. Sandie sang a song she hadn't performed before for her final audition while Austin did a reprise of "Radioactive." Keith delivers the news that Austin's in the Top 30 and Sandie's going home.
Ben Briley and Neco Starr are the final remaining guys. Ben gave one of his best performances during the solo round and Neco took on Beyonce's "Halo." He was sick before he sang, but he didn't say anything about that to Harry and Co. Ryan rides up in the elevator with the both of them. "We've landed on 16 guys we like and we can only take 15," says Keith. Jennifer says that America will be voting on the two of them to decide which moves forward. 
And then Ryan plugs the American Idol App and gives voting instructions to the viewers. 
To recap, the Top 29 contestants are:
GIRLS:
Emily Piriz
Jillian Jensen
Malaya Watson
Bria Anai Johnson
Jessica Meuse
MK Nobilette
Kristin O'Connor
Andrina Brogden
Marialle Sellers
Jena Asciutto
Majesty Rose York
Brandy Neelly
Briana Oakley
Kenzie Hall
Austin Wolfe
GUYS:
Spencer Lloyd
George Lovett
Maurice Townsend
Dexter Roberts
Jordan Brisbane
Emmanuel Zidor
Malcolm Allen
Alex Preston
Casey Thrasher
CJ Harris
Caleb Johnson
Ethan Harris
Briston Maroney
Either Neco Starr or Ben Briley will round out the Top 30 and we won't know that until next Wednesday when the guys perform. Idol will be a three-night event next week with the field being narrowed from 30 to 13.
Who are you voting for, Ben Briley or Neco Starr?
Miranda Wicker is a Staff Writer for TV Fanatic. Follow her on Twitter.