American Idol Review: The Top 10 Guys Perform!
Miranda Wicker at . Updated at .
A new twist on an old competition, American Idol Rush Week saw 10 of the Top 15 girls perform last night for a chance to win America's vote. Tonight it's the guys' turn.
One by one the judges will call 10 of the Top 15 guys in the competition down to the stage. We'll see their Randy Jackson workshop experience and then they'll sing for our votes. 
Who will be singing and who will be going home? Let's find out now.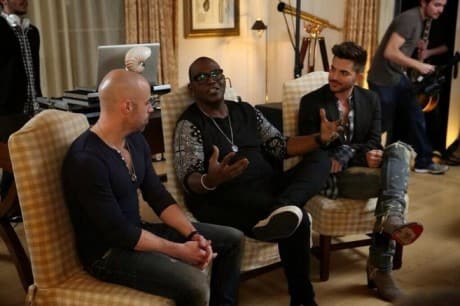 The first guy to sing for America's votes is Caleb Johnson. He hopes to bring some rock and roll to the show and chose "Stay With Me" by The Faces. He knows his bad habit is closing his eyes when he sings and Daughtry tells him to smile a little when he sings. He's a good, energetic way to start the night and he gets the crowd on their feet. Jennifer and Keith sing along with Caleb and everyone seems to have a great time. It's probably my favorite performance of his so far.
Keith compliments the soul in his voice and calls him a natural. Jennifer says he gave some "real rock star ish." Harry congratulates him and says it's going to be tough for the rest of the guys to follow. 4.5/5
One of the Alabama boys C.J. Harris is up next. He wants to stay true to who he is and laughs at the fedora Adam Lambert suggests he wear. Chris Daughtry gets him to put down his guitar for the rehearsal, but he picks it up again for his performance of a Ray Lamontagne number. He's a little off the rhythm with the band accompaniment and his phrasing is weird. I think his nerves might be getting the best of him. 
Jennifer says that it's beautiful when he sings and calls him awesome. Harry says he sings consistently sharp and needs to watch his intonation. Keith calls him a great Alabama boy. 3.5/5
Emmanuel Zidor is called third and he's chosen "The Best of My Love" by The Emotions. He doesn't enunciate when he sings which tanks his performance for me. He's way too karaoke and concerned with riffing. The judges will probably love it but I don't think it was Top 10 worthy at all.
Harry says he's so much fun to watch and has an infectious energy but needs to "stay in his lane." Keith agrees with Harry that when the adrenaline kicks in he gets off key. Jennifer "Zidores" him and says he belongs on the stage performing and asks him to sing again, which feels like a cheap trick. 2.5/5
Up next, we'll see Sam Woolf, who sang an original song during Hollywood week. He chose "Babylon" by David Gray for tonight. The vocal coach and Randy both tell him to stop looking down and away from the cameras. He has a soft guitar-playing style that's really nice and he does some great things vocally with the song to change it up just enough to make it different while still staying true to the song. He does a decent job engaging with his audience in theater and at home. It's a really solid performance.
Keith says his voice is "money." Jennifer loves the sweet quality he has about him and loves how natural he seems. Harry thought it was a great song choice and hopes he gains confidence as the competition goes on. 5/5
George Lovett is the fourth guy through and he's chosen Bruno Mars "Grenade." He has an interesting vibrato to his voice as the song begins, but he looks like he's in pain when he sings. Or like he's really angry. He starts off nice enough but he totally loses it when the song opens up and it's just not great. Not at all.
Jennifer thinks that in the future he needs more control of his vocal runs. Harry thought his performance was one-note and has heard him sing better. Keith thought it wasn't a great song choice. 1/5
Another Alabama boy, Dexter Roberts gets called up next. He doesn't just play the guitar. He also plays the drums and the piano, making him even more interesting than he was before. He's singing "This Old Boy" for Rush Week. He's fun. That's just the best compliment for him, really. Every note of his performance drips with fun and he exudes confidence. He knows that he was born to do exactly what he's doing. He could enunciate just a bit more and work on keeping his eyes open and looking at the camera, but he's just fun.
Harry calls him a solid and likeable performer but wonders what he'll do to distinguish himself from the landscape of current country artists. Keith calls him a "legit" country boy and dittos Harry. Jennifer loves the easy and cool way he has about him. 5/5
Alex Preston, who has wowed us with his originality, is in the Top 10 guys. He plays 11 or 12 instruments and says he's actually a little shy. He's singing "Volcano" by Damien Rice. His note from the movement coach was to make eye contact, which is hard for shy Alex. He pushes himself to keep his eyes open, but his voice and tone are so clear that personally I wouldn't care if he sang with his eyes closed. As he gets into the performance, he looks down at his microphone more frequently instead of looking out. But it's so fantastic.
Keith calls it the best song choice of the night. Jennifer loved the groove he had and says he's in his own lane. Harry says he gets the feeling that Alex eats, sleeps, and breathes music and loves that he "ended on the 9." 5/5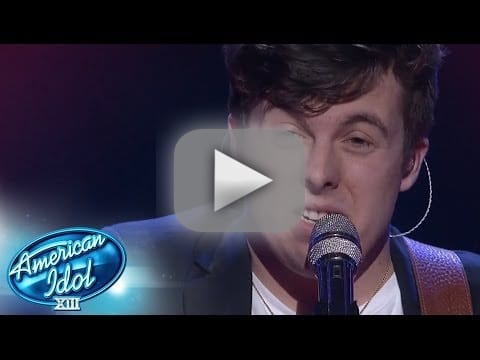 Guy number 8 to hit the stage is Malcolm Allen. Malcolm was a church singer who hit the night club circuit trying to make a name for himself. He believes his problem is stage presence and chooses "Coming From Where I'm From." Adam Lambert tells him to overcommit to every choice he makes, 150%, which works for Adam because he's Glambert. In terms of choosing a song that will make America fall in love with him, I'm not sure this one was it. Malcolm feels out of sync with the band, like he's rushing the lyrics. It's not fantastic and he never has a moment.
Jennifer says he has a great voice but his performance didn't hit her. Harry doesn't like that he sang the exact same run over and over and over and says that he sang out of tune. Keith didn't think he made good artistic choices for the performance. 1/5
Ben Briley, who made it to the Top 15 when America voted him there, will be get the chance to sing "Soul Shine" by the Allman Brothers. He also has issues with focusing on the audience instead of his microphone when he sings. He picks up the electric guitar instead of the acoustic for tonight, which is an interesting choice because it gives him a way to stand out that isn't just through his vocals. Vocally he was very middle of the pack, but there's something really likeable about him.
Harry thought he did a great job. Keith thinks his voice is great and appreciated his guitar solo as well. Jennifer said he came alive during his performance, which is the sign of a true performer. 4/5
The final guy to sing for the chance to win America's votes is Spencer Lloyd. He wants to sing "Love Don't Die" by The Fray and can't decide if he wants to go with or without the guitar. Randy tells him to "ride the horse that brought him there" but Adam tells him to lose the guitar. He listens to Adam. And then he starts on a bum lower note. It feels like he's trying too hard to be hard and also a heart throb and sort of urban. Spencer has a lot of things going on and none of them are his vocals.
Keith says that song choice is important and didn't think that was his best vocal performance. Jennifer said everyone was excited to see him. Harry tells him to stick to what he knows and says that wasn't good. 2.5/5
Casey Thrasher and Jordan Brisbane are two of the guys going home tonight without another opportunity to sing, and after hearing some of these performances, that's pretty terrible, in my opinion. (Still sort of bitter that the judges cut David Oliver Willis out of the Top 30 while we're talking about performers who should still be here.)
Alex Preston won the night, followed by Dexter Roberts, Sam Woolf and Caleb Johnson. Ben Briley rounds out my picks for Top 5 guys, but C.J. Harris could sweep in with an upset now that Casey Thrasher's gone. One of my Top 5 will inevitably be ousted by Spencer Lloyd, the most attractive guy in the competition, who'll earn votes based on that alone. 
The judges will each get a save after America decides so we could also see more of Emmanuel Zidor.
We'll find out tomorrow night. For now, which of the Top 10 guys had the strongest performance tonight?
Miranda Wicker is a Staff Writer for TV Fanatic. Follow her on Twitter.