Archer Review: Southbound and Down
Robin Harry at . Updated at .
Archer returned from a short hiatus this week with a full blown tribute to Smokey and the Bandit, as the former ISIS gang headed down to Texas to get Cherlene to her first public appearance.  
I'm right in the middle about Archer Season 5 Episode 5. There were things that I loved, but things that really, really bugged me.  
Let's talk about what I loved first. This episode was a excellent and hilarious homage to the Smokey and the Bandit movies.
From Archer's Pontiac Trans-Am blocker car, the road trip to Texas and the Texarkana sign they crashed through along the way, the Snowball nickname, the trucker help along the way, and the CB radio - it was all fantastic. 
Archer even dressed the part (down to the mustache), which is not surprising since Burt Reynolds is his hero. I absolutely loved it.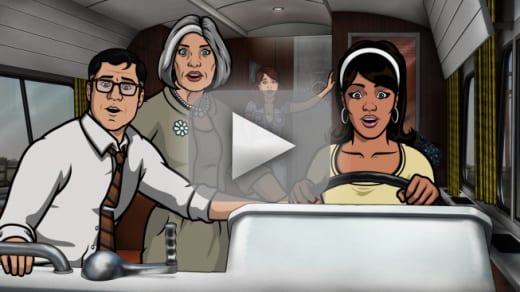 I also really liked how they're continuing with Archer's crawl towards maturity and sensitivity. It really is a crawl. 
Archer bringing the cocaine on the trip was probably one of the dumbest things he's done. However, I was surprised that Archer took the fall for Pam after she lost his gun and got biker gangs after their cocaine. 
Even more surprising was the way he reacted when Pam admitted that she's feeding her cocaine addiction so that she can keep looking good:
Archer: For what it's worth, we all kinda liked you the way you were.
Pam: Really?
Archer: Well, we hated you less. You kinda turned into a ginormous asshole.
Sterling Archer actually told a woman that her personality mattered more than her looks. Our little Sterling really is growing up!  This is the kind of character change I can deal with - growth.
What I'm not liking as much is the changes in both Pam and Cherlene. With Pam, at least it was lampshaded a bit in this episode, with Archer telling her how annoying she's become on cocaine. 
However, the Pam Poovey we knew before was not insecure about her looks or popularity. I miss the old badass, unapologetic, hedonistic Pam who could take a beating and dish out an insult.  Also, why on earth would Pam be surprised that Archer would sleep with her? Have we forgotten Archer season 3?
As for Cherlene - I'm sorry, but I'm not a fan. They've exaggerated the quirks that made Cheryl funny and weird, and now those quirks aren't as charming as they used to be. Cherlene is a louder, shriller, bossier, bitchier character, and that character quota was already filled quite well by Malory, as far as I'm concerned. 
While it will be interesting to see how these two alpha females maintain a working relationship, I'm not quite on board the Cherlene train (or tour bus) just yet.
Last complaint? Not. Enough. Krieger. I laughed the hardest this episode during Krieger's two short appearances. The man with Hitler DNA drunk with power of his control of Ray's bionic body - my goodness, the Third Reich salute?!? Yep. I definitely need more Krieger.
What do you guys think about the way the characters are changing? What do you think of Cherlene?
RUNNING JOKES:
Good buddy, Snowball - everything from Smokey and the Bandit, really.
Malory's dislike of Austin City Limits - driving through the Austin sign was a nice touch.
SHOUT-OUTS:
Obscure Reference Alert:  Lana's "Colonel MOM Parker" barb was a reference to Colonel Tom Parker, Elvis Presley's manager.