Was it just me or was Beauty and the Beast Season 2 Episode 12 a little less than it could have been?
Considering a thorn in the viewers' side met her demise (so many puns come to mind; she was so draining, for example), it should have been more exciting or elicited more emotion.
Instead, the decision was made to portray Tori as the gentle beast she could have been all along, more of a little sister to Vincent with much to learn. As such, her death was rather sad. 
I look back at her character arc as a wasted opportunity. She could have easily come between Cat and Vincent without the unnecessary romantic or sexual involvement. Vincent only had to care for her and bond as a beast to throw Cat off her game and make her realize how different they were to give her reason enough to second guess how quickly they were moving toward a permanent relationship. 
Well, what's done is done.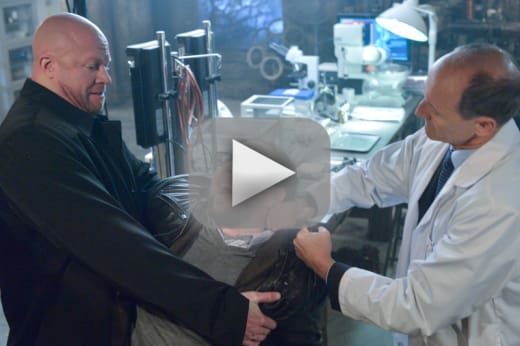 It was such a shame that J.T. finally got his moment (Receiving a grant!) and it turned out to be a scam to get to beasts. Always with the beasts. He must look back at that day in his life when he volunteered Vincent as the worst day of his life. The last person to whom the secret matters knows it now, and it went better than he imagined. Their friendship is a joy to watch.
That they had been through all of that, still had the ability to see something positive come out of it and could toast Tori's life was pretty amazing.
The several times Cat and Gabe took time to stand around and discuss their feelings was unnecessary. We get it. Gabe is waiting for Cat. Cat's mulling it over, and will probably pick him as her rebound guy so she can rip his heart out later. He's leaving the precinct now. Does that mean we'll see less of him? Maybe his absence will be absorbed with the presence of Agent Landon since her story just took at giant leap forward.
As soon as we learned the dude in the cage wasn't a beast, I knew he would end up being Landon's husband. What I found utterly amazing was that she was kneeling in front of him and already talking before she noticed that he was her husband. Adults don't change that much in six years.
I guess they'll pool all of their knowledge, forcing Cat and Vincent to spend more time together and Gabe to feel out of the loop. He wants to back away from all things beast, but can he really do that if it means she re-engages with Vincent as they carry on with the beastly antics? 
Someone has beast blood (pure blood, at that) to use to try to create a serum to make more beasts. I'd think getting blood from a genetically pure beast might change their game plan a little bit, so they'll still need some of Vincent's to do a comparison. 
It never felt like J.T. was in any real danger during the kidnapping because the kidnappers planted his clothing out there for the beasts to track him, and the police were right behind. There was no real sense of urgency to the hour, even though the stakes were rather high. It just fell flat.
I suppose we're at a new beginning. Tori's gone. Cat and Vincent are separated. A new mystery is about to unfold regarding Cat's family history and we'll discover the extent of Sam's knowledge. Tori came in like a lion, but went out with a whimper. Huh.
Did you think Tori's demise was a fitting sendoff for the character?
Carissa Pavlica is the managing editor and a staff writer for TV Fanatic. Follow her on Twitter.