Brooklyn Nine-Nine Review: Captain Holt's Birthday Party
Robin Harry at . Updated at .
There comes a time in every young adult's life where they end up at a "grown-up" party, feeling hopelessly out of place and awkwardly trying to fit in. 
This week, on Brooklyn Nine-Nine Season 1 Episode 16, it was that time for the entire precinct. In the best episode of Brooklyn Nine-Nine to date, Captain Holt had a birthday party.
The crew of the 99 each have their own eccentricities and personality dysfunctions and they seem crazy enough when they're in the precinct. However, this episode put them all in a setting where all of their idiosyncrasies and nutty traits were magnified against a backdrop of low-key normalcy.
That contrast made for some great comedy. They've never been funnier.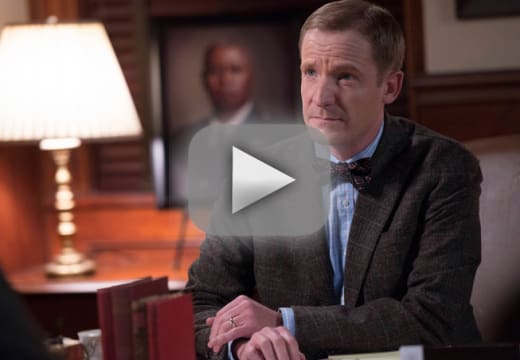 To add to the great situational comedy, the writing on this episode was absolutely stellar. The dialogue was witty and sharp and the cast delivered in spades. The chemistry among them all is most evident when they're in a group situation like this one: it really was just perfect. I was laughing from the "Danzes with Wolvez" line, and the jokes just kept on coming.
We finally got to meet Captain Holt's husband, Kevin Cozner (played brilliantly by Marc Evan Jackson), as he invited them to a dinner party at their residence for Holt's birthday. As the night progressed, everyone's quirks stood out like a handful of sore thumbs as Terry tried desperately to shepherd them into being appropriate.
Terry: Don't move as a group!  You're not gazelles!!
Melissa Fumero really shined in this episode, as Amy's desperation to be considered Holt's peer brought her into creepy territory as she took pictures of the contents of his kitchen. The look of self-contempt she gave herself every time she said something inappropriate? Priceless. Jake didn't fare much better, as his snarky wit and need to be charming quickly put him at odds with Kevin, who was not impressed. 
Amazingly, though, some of them made their quirks work to their advantage. Charles' nerdiness about food actually scored him a woman with similar interests. Rosa worked her penchant for avoiding people to her advantage, as she made Gina's insanity the big draw. The montage of psychologists flocking towards Gina as she said increasingly crazy things - hilarious.
Also - stop the presses - can we talk about Scully's opera singing?!? Who saw that coming?
I think there's a lesson here. Always be true to yourself, just find what part of you fits that particular moment you're in.
At the beginning of the episode, it seemed to the the gang that Holt didn't want them there, as the invitations came from his husband at the last minute. Holt also tried to warn Peralta that he may not get along with Kevin.
It turned out that Holt actually did want them all to come, and it was Kevin that didn't want any of the precinct at the party. It's not till the end of the episode that Jake deduces why. Kevin wasn't just resentful of the 99; he resented all cops because of the homophobia that his husband had to endure. The precinct's gesture at the end - giving Holt a quiet dinner with his husband - was sweet and touching. As always, the show masters comedy with a heart.
This was hands-down my favorite episode of Brooklyn Nine-Nine Season 1. Hopefully, with the boost from the Super Bowl and its new home at 9:30 with the New Girl lead-in, a lot more eyes saw one of the funniest comedies on television.

Other notes:
Today in Hitchcock and Scully - I'm pretty sure now that Hitchcock tries (or succeeds) taking his shirt off in every episode.
On Holt's DVR: Sherlock, Bones, and How It's Made-Contact Lenses. Wide range of tastes there.
Kevin has that portrait of Holt in his office. Nice continuity!