There were so many things to love about Castle Season 6 Episode 14 that I almost feel bad pointing out the things that bothered me. 
I'm going to do it anyway... but let's start with the positive.
The murder of the week had plenty of twists, turns and interesting suspects, though none were better than Matilda King. What could have come across as a caricature actually turned out to be a fascinating woman with more depth than I expected.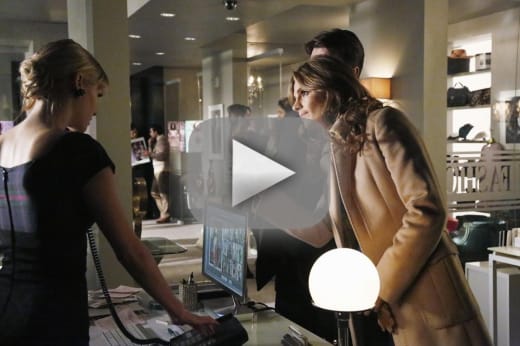 First off, she immediately remembered Kate Beckett. She said she'd never forget those cheekbones (who could?) or the fact that Kate was the one person who turned Matilda down when she was offered her big break. I'm sure that doesn't happen often. 
The fact that Matilda would bug her employees' homes so that she could listen to the recordings herself seemed a little far fetched. Not so much the illegal surveillance but that Matilda would do the listening. That would be incredibly boring and take up far too many hours. What a horrible way to waste your weekends.
When I first realized that this episode would revisit the topic of Kate's short stint as a model, I was excited. Unfortunately, I never got the payoff I was hoping for. 
It almost felt as though Rick already knew about Kate's modeling past because he barely had any reaction at all to the news. There was no real discussion about how she got into modeling or why she decided to leave. As a matter of fact, he didn't ask one question about it, not even to see a picture! 
As a long time viewer I really enjoyed "Inventing the Girl" where Kate was scrambling to hide the photo of her modeling a tennis outfit from Castle and swearing the boys to secrecy. Castle Season 2 Episode 3 stuck in my memory for the fun of those moments and I was hoping they'd revisit a little of that. Unfortunately, it never happened here and that's where this story line missed the mark for me. 
In the middle of murder, wire taps, threats from mystery men, corporate espionage, and fashion, there was Rick and Kate trying to plan their wedding.  I loved when Rick shared his feelings about getting married with his mother in this Castle quote…
I just feel like I've waited long enough, Mother. I don't want to waste any more time before we take the next step.

Castle
He's been in love with Kate Beckett for a long time. Even with two failed marriages behind him, it was good to hear him express how anxious he was to make that commitment and move forward together. 
Now we get to my biggest disappointment in the episode. The dress.
Matilda was correct when she said it was amazing. It was amazing that even with Kate Beckett wearing it I still hated that dress. Don't get me wrong, the silver beading was beautiful…for an evening dress. Not for a first time bride. And all of the fluffy ivory tulle on the skirt looked ridiculous. 
My reaction to that dress was so strong that it almost took away from a very powerful scene. Almost.
Kudos to Stana Katic for delivering on that moment where Kate is reminded of her mother. She didn't need to utter one word. Her expressions clearly shared every heartbreaking moment and I had no doubt what she was thinking and feeling. 
But when that dress showed up at her home, I found myself hoping that this apartment might blow up too just to get rid of it. 
My favorite scene was when Kate went to the loft to explain to Rick what was wrong. He knew something was off and was obviously concerned. The way she shared what she felt and apologized for passing on the new wedding venue showed just how far this couple has come. 
I also loved hearing how Kate believes her mother would have adored Rick. I only wish they could have spoken on that subject a bit more. 
That Castle offered to postpone the wedding if she needed more time just showed once again how he'll do anything for Kate.  The man has learned a lot about patience since we first met him in Castle season 1.
Now they're hoping for a spring wedding. Honestly, I feel like I'm getting whip lash. They just picked September! Will a spring wedding actually happen or will some sort of obstacle (Bracken, 3XK) get in the way? And perhaps it's a long shot but I'm still hoping on a beautiful wedding at their place in the Hamptons. 
Now it's your turn, TV Fanatics. What did you think of Kate's wedding dress?
C. Orlando is a TV Fanatic Staff Writer. Follow her on Twitter.