Big Tippi, we hardly knew you!
At least Cougar Town Season 5 Episode 6 quickly introduced Tippi's replacement, though. Welcome to the Sac, Big Chuck!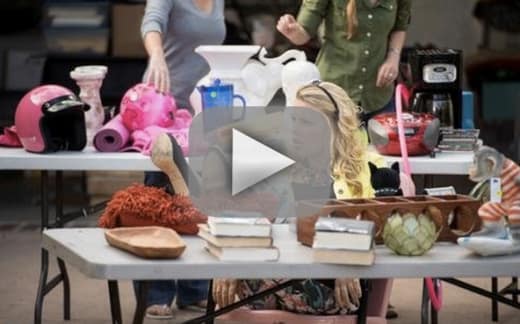 Grayson commenting on doing the memorial services just about every year for the big wine glasses  was one of those slightly meta jokes that are sometimes snuck in, but some reassurance that it's being noticed is never a bad thing. Outliving your wine glass is a terrible tragedy, after all.
However, the destruction of the ridiculously-sized items is getting a little old. Big Tippi had all of two episodes to her name. These things begin to lose their effect when their life spans get smaller and smaller.
The events leading up to Tippi's demise - with Jules jumping on the karma bandwagon thanks to Laurie - was a good one. Jules is always following some new thing always comes back to her safety net of the cul-de-sac.
It's a tried and true Cougar Town formula by now. Laurie's belief that she has great karma was at least a little surprising.
With the amount of crazy things Laurie has done (to people), the birds should've taken a turn to the right and pegged Laurie. Perhaps Jules just got in the way of their trajectory, but there's no way Laurie could've come away from it completely clean.
The car crashing through the front of Krazy Kakes and the real estate office was the best kind of karmic comeback: Laurie may think it's just for Jules, but she owns that storefront too.
Laurie and Travis' relationship continued to be on the backburner. The only new insight we got this installment was Laurie agreeing to put the green screen in her apartment. With Travis trying to help Bobby get over his rollercoaster fear (only to reignite his own), Travis and Laurie were very much separated along hang out lines.
Andy making a bet with Ellie that she can't go a day without snark? Well, we all knew Ellie was never going to win that one, but we were all winners in the end.
Andy's sneaky side was shown off again as he knowingly found more ridiculous outfits and yard sale items to parade around Ellie - and watching Ellie hip check some innocent bystander in line is never a bad thing.
How long will Big Chuck last?