Ding! Ding! 
It was on this week on Dance Moms. For real, people.
We start with Abby telling Jill about her latest scheme, which involve casting a new elite junior team to compete with her present squad. Is this the beginning of the end, Jill asks? Abby assures her that Maddie will always have a spot.
The pyramid, meanwhile, features Chloe, Kendall and Nia on the bottom. Mackenzie joins them, while Brooke and Paige are the second row. Maddie, naturally, is back on top.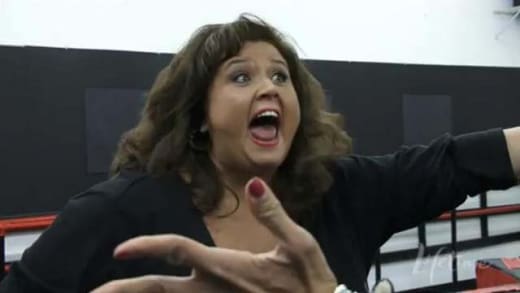 We then head to Sheer Talent in New York and lawn that Paige and Chloe have solos, whole Paige and Chloe will be performing a duet titled "Wishbone." The entire group is in for "Elegant Revenge.
As you might expect, the mothers are peeved over the new team of elites, while Abby takes a few moments to lecture Pagie. This would only be the start of the drama... 
The gals arrive in New York and Abby is initially excited over all the potential new members. But she wants to build a team of Maddies and no one there is perfect, not even the dancer she gives a second chance to because he mom begged and pleaded.
In the dressing room, we discover that the group and duet won at NUVO. Abby tells them to using their face and attitude. Kelly, meanwhile, is backstage offering Paige encouragement, which leads to a decent routine.
Abby then wants to enter Kalani and Maddie's duet for a win (as opposed to an exhibition number) and it goes relatively smoothly, although the music stops prior to the dancing coming to an end.
Abby then announces that Kalina is a new team member and… oh boy. She subsequently tells Brooke to "grow the Hell up," which causes Kelly to intervene.
They argue. Kelly jabs at Abby, who tries to bite her finger. Kelly smacks Abby in the head.
"You're crazy," Abby says, before ordering someone to call the police.
"No, I'm not crazy," Kelly replies. "You're eating my face! ... 500-pound hog, pretending to eat me."
Totally crazy, huh? And staged? Perhaps. But is this it for Kelly and Brook? Will we see them again next week? If the series was simply enacting a ratings ploy… it worked. We'll be tuning in next Wednesday!
Matt Richenthal is the Editor in Chief of TV Fanatic. Follow him on Twitter and on Google+.