Dance Moms spent time in Los Angeles, Pittsburgh and Indiana this week.
First, we hung out with Abby and Mackenzie during a recording studio segment that found the latter nervous and the former bossy. Shocking, right?
But Mackenzie did seem to find more energy as time went on and, who knows, maybe she'll succeed at this music thing.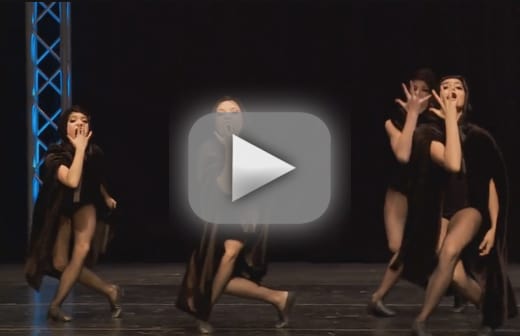 In Pittsburgh, meanwhile, the search is on for the New Maddie, considering the old Maddie is working in California.
Nia, Kendall or Kalani are on the bottom of the pyramid and clearly not up for the job, while Chloe is on row two and Maddie - who, we repeat, is NOT present - is at the top. Okay then.
The group is off to Fort Wayne, Indiana for the Masters of Dance Arts, where Abby is focused on their eighth win and a routine titled "The Bite." Seems apt for her, doesn't it? Considering what went down with Kelly on Dance Moms Season 4 Episode 7.
With Maddie not around, Kendall beats out Chloe for the lead.
And then, hey, it's a call from Kelly! She wants to catch up and we're taken to lunch with  her, Christi, Melissa and Kira.
The barred parent says she doesn't miss the stress of the studio and that her girls aren't missing dance. She can't discuss the pending charges, but she says there's a lot going on and she's upset because only Christi and Holly have talked to her since NYC.
You won't believe this, but back at rehearsal, Abby is yelling at the girls about winning seven times in a row and can they make it eight and is Chloe really up for the lead and then Kira takes a jab at Kalani, which pisses off Melissa.
Abby also learned about the Kelly lunch and read the mothers her riot act as a result, threatening to kick their kids off the team.
So… the tension is high as we arrive in Fort Wayne.
Chloe performs well, as does Kalani, but MacKenzie's hair piece falls off during her time on stage, which is always a no-no with Abby. She hears it from her teacher back in the dressing room, as do most of the girls, with Abby pushing them to fight for their parts.
At awards, Mackenzie comes in first (even after losing the hairpiece) and the group wins first in junior dance and - look at that! - Abby is happy.
The girls receive props from their crazy mentor, though not full props. Abby tell Chloe that she needs to take more lessons, to which Christi says her daughter already does… to which Abby refers to Christi as "Satan.
We knew Abby couldn't remain happy for long.
Matt Richenthal is the Editor in Chief of TV Fanatic. Follow him on Twitter and on Google+.