War was declared on Duck Dynasty Season 5 Episode 6.
Paintball war, that is!
It all started when Miss Kay asked the bearded brood to donate their childhood toys to charity. No problem, Willie, Jase and company replied... until Willie came across an old G.I. Joe action figure.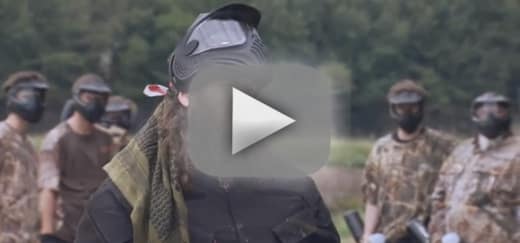 Willie said he'd give everything away except that one item, which led to an argument over who the action figure (not the "doll," Miss Kay!) actually belonged to.
How did this fight get solved? Especially once Willie and Jase then got into it over who would have been a better solider? A paintball battle, of course with the G.I. Joe doll figure going to the winner.
Willie's kids (on Team Jase) and others joined in the colorful, messy fun, while Uncle Si (an actual former soldier) was picked last and decided to "go mercenary" to teach the rest of the Robertsons a lesson.
Phil Robertson remained clean throughout the episode, however, choosing to help Jep with a home improvement project over pelt his brethren with pain.
In the end, meanwhile, neither side won the war, leaving us to wonder about the fate of the doll and whether - like on Community - we'll see a paintball sequel.
Phil led the veterans in a prayer over dinner to conclude another entertaining episode of Duck Dynasty.
Matt Richenthal is the Editor in Chief of TV Fanatic. Follow him on Twitter and on Google+.