It's an embarrassment of riches this week with not only a slew of DVD and Blu-ray releases but also a little something for everyone.
Before we dive in, remember to enter to win Starz's The White Queen in our DVD giveaway!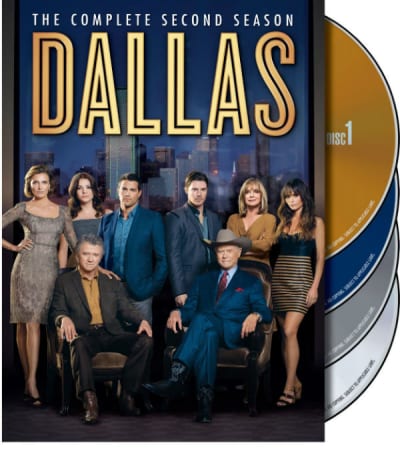 Dallas Season 2: Just in time to catch up before Season 3 kicks off on TNT on February 24, the second season will go down in history as the season where JR Ewing died. Star Larry Hagman passed away and the reboot of the classic prime time soap had to scramble to work JR's death into the story.
The good news is the show bounced back – maybe even stronger than ever – with everyone reeling from the news and new stories born out of the tragedy. My favorite moment? JR's ex, Sue Ellen (Linda Gray) giving her eulogy and admitting she'd fallen off the wagon due to her grief over JR's passing. Great stuff and, as always, honors the legacy of the entire series.
The Americans Season 1... and Austenland: There are so many good things to say about this FX series, but who knew a spy story set in the 1980s starring Keri Russell and Matthew Rhys would be one of the most engaging new series of last season. The twist is that Russell and Rhys, playing a happily married American couple, are really Soviet spies masquerading and manipulating everyone around them.
Add Margo Martindale as their snappy, no bull handler (her physical fight with Russell is one of the highlights of the first season) and Noah Emmerich as the unsuspecting neighbor/friend/CIA operative and you've got a solid, thrilling series. Season 2 starts February 26 so catch up NOW.
And if you can't get enough of Keri Russell, her film Austenland, is also new on DVD and Blu-ray. It is a charming, modern twist on the timeless tales of Jane Austen's romance novels.
Swamp People Season 4 We've officially entered the age where we're not even surprised at the subject matter of reality TV anymore and, with over four million regular viewers, the show is a bonafide hit. This History Channel series about the group that makes their living keeping the swamps of Louisiana spent much the fourth season dealing with a post-hurricane climate, as well as new hunters making the mix of swampers a bit more competitive than usual.
Season 5 just started last week so you still have time to catch up.
TV Movies: Have you noticed that TV movies have gotten really, really good as of late? First up, we've got Bonnie and Clyde: While we'd like to think classic films should not be touched, this new version of the Warren Beatty/Faye Dunaway 1967 hit had gangbuster ratings when it aired in December on Lifetime.
Starring Emile Hirsch and Holliday Grainger as the titular gangsters, the DVD and Blu-ray release comes with new behind-the-scenes featurettes show how the film was made and how the actors worked on making the roles their own. 
Then, it's not a remake but a story we all know too well – the assassination of President John F. Kennedy. In Killing Kennedy, Rob Lowe plays Kennedy with Once Upon a Time's Ginnifer Goodwin as Jacqueline Kennedy, Michelle Trachtenberg as Marina Oswald and Will Rothhaar as Lee Harvey Oswald. The film, which gives us more of a glimpse into Oswald, aired on Nat Geo just before the 50 anniversary of Kennedy's death.
Oscar Contender: All Is Lost. While this is generally a TV-related column, one of the overlooked gems this season is Academy Award winner Robert Redford starring in JC Chandor's All Is Lost. The film focused on one man's survival at sea against the elements but, in what may have turned people off, the film has Redford as the only cast member and there is very little dialogue.
That said, the film was a critical success and is work a look. And if you need more talking in your watching of the film, check out the commentary with Chandor and the producers as well as a behind-the-scenes featurette.
Classic TV: It's probably just irony that two Happy Days spin-offs are released this week on home video. First up, Joanie Loves Chachi starred Erin Moran and Scott Baio as the young lovebirds but the series was a critical flop and audiences quickly turned up their nose at it and it ended after 17 episodes. The Complete Series is now available.
The same can't be said for the long-running Happy Days spin-off, Laverne & Shirley, which, in season 7, finds the girls (Cindy Williams and Penny Marshall) settled into life in Los Angeles but still finding the zany in their lives.
A non-Happy Days spinoff, Family Matters, Season 4 was another ABC sitcom fan favorite on the ABC TGIF lineup with Urkel (Jaleel White) as the beloved center of the series along with the Winslow family. All 24 episodes of the fourth season are included in the new DVD release.
Finally, for you animation buffs, Pinky, Elmyra and the Brain: The Complete Series was the reboot of the popular Pinky and the Brain series and comes from Exec Producer Steven Spielberg. All 13 episodes of the Emmy winning (Outstanding Animated Children's Program, 2000) are here on this new collection. 
Jim Halterman is the West Coast Editor of TV Fanatic and the owner of JimHalterman.com. Follow him on Twitter.