Gossip Girl Rewatch: Much I Do About Nothing
Leigh Raines at .
After the Gossip Girl Season 1 Episode 17 bombshell that Serena thought she killed someone, there was nowhere to go but up.
Or at least that's what we thought.
Serena and Lily resolved the whole Pete issue and Serena was desperate to tell Dan the truth about it all. Only she couldn't reach him because crazy Georgina slipped the battery out of his phone! (PS remember when phones had removable batteries?)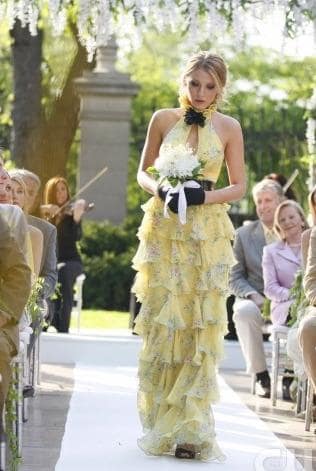 In Gossip Girl Season 1 Episode 18 Serena tried to make things right with Dan while her mother prepared for her fourth trip down the aisle. Oh Lily Van Der Woodsen...still planning a full blown black tie affair with a dress from Mark Ingram for wedding #4, that woman could never turn down the chance for a big soiree!
Meanwhile Serena was wandering Fifth avenue calling Dan repeatedly all night...because that's nowhere near either of their homes, but okay. When she finally showed up, Georgina was there and Serena was ready to go Real Housewives on her ass! I loved that Georgina feigned innocence when Serena walked in. Bitch the jig is up, everyone knows you're not "Sarah."
However it was too late. Dan had hooked up with Georgie after thinking Serena cheated on him. Boy moves fast, what can I say? Then Serena told him the whole story and somehow she's still the a-hole. I did love Derena when they were together, but sometimes Dan was just so self-righteous. Anyway, the damage was already done.
I will give Dan credit though for knowing Georgina needed to be taken down. Dan's first scheme with Blair was one of the best moments of Gossip Girl season 1. Nobody forgets their first takedown!
Plus, it rendered one of my all time favorite quotes in the entire series:
Perfection. You know what else was perfection? Lily's garden party wedding. Everyone looked fantastic. Blair in the pink, Serena in the yellow. Truly beautiful. I also loved that it finally brought Chuck and Nate back together. Even if it took the Captain being shady to do so, the boys made up.
Once Nate forgave Chuck, Chuck kind of had the green light to go after Blair. I think Nate knew that Blair wasn't the love of his life, but he was worried that Chuck saw it only as a challenge. That was what it sounded like at least when Chuck agreed with the Captain saying no girl was worth coming between their friendship.
Mr. Archibald: Wow! Clearly I missed something while I was away. A little advice, fellas: You've been friends a long time. Whoever she is, she's not worth it.
Chuck: I couldn't agree more.
Nate: That's the problem.
Alas Chuck proved that he really was into Blair...at least for a week or so before he ditched her on a chopper for a Hearst sister. Ah, but that set things up for a great Gossip Girl Season 2 episode 1! See you next time!
XOXO.
Don't forget, you can always watch Gossip Girl online at TV Fanatic!