Gossip Girl Rewatch: Summer, Kind of Wonderful
Leigh Raines at .
Well... it wasn't a cliffhanger, but Gossip Girl Season 1 Episode 18 left some things to be desired.
A summer hiatus had us foaming at the bit for a dose of our favorite Upper East Siders (and Brooklyn kids). 
Gossip Girl Season 2 Episode 1 took us to one of the main places we would find the crew: East Hampton.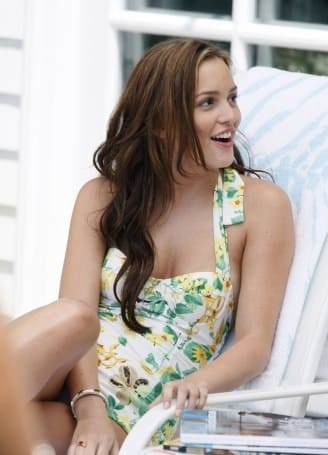 As someone living in NYC who goes to the Hamptons I was all excited to see the familiar sites and then was quickly reminded that it's the dead of winter and got all sad. Well I guess that's what Netflix and the imaginary world of Gossip Girl are for! 
Gossip Girl picked an awesome way to kick off its second season. Serena and Chuck were out East, drowning their sorrows in different ways. Chuck kept himself entertained by taking a world tour of women, who by the way definitely aren't allowed to get topless on Cooper's Beach but whatever.
Serena kept herself warm with Della Famina and episodes of The Closer. Her pretend relationship with Nate kept people off her back about being sad and had gossipers looking elsewhere instead of at Nate's affair with an older woman. That affair started off as hot, hot, hot. It also kicked off Nate's affinity for cougars.
So jumping into the mindset of re-watching this knowing that Dan was Gossip Girl, he really set that summer up so perfectly. Bragging about his conquests on the site and how they shouldn't call him "Lonely Boy" anymore- so transparent now it's like "how did we not know?" Total forehead palm. Doy!
Then Dan had the gall to be pissed when he showed up to the White Party and saw Serena kissing Nate? Dude you dumped her. Also I always thought it was interesting how nobody ever mentioned why it didn't work out between Nate and Vanessa. Maybe it was Dan's way of protecting Vanessa because he knew the real reason was her feelings for him. 
Serena: Dan... Dan wait.
Dan: No thank you.
Serena: Dan, I didn't expect to see you. You surprised me.
Dan: Well, I have to say... you didn't.

By the way, Serena's Oscar De La Renta dress at the White Party was one of my all time favorite Serena Van Der Woodsen Gossip Girl fashion moments. Blair's outfits were lighter, happier, and more fun too. I just loved summer on Gossip Girl!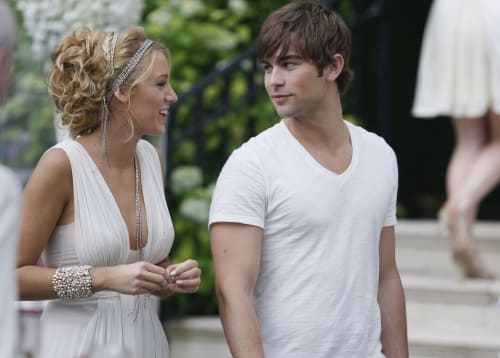 Honorable mentions
Chuck asking what a Jitney was.
Jenny groveling to Eric.
Eric lamenting that Chuck had a P.I. on speed dial.
All of Blair's Chuck Bass puns.
Serena's lifeguard almost running over naked Nate in the street.
Laurel getting snubbed by Tinsley Mortimer.
However, much of this episode belonged to that landmark moment at the end. You know the one I'm talking about. Chuck versus Blair after Blair finds out that James is really Lord Marcus Beaton and Chuck tries to get her to stay at the party. Here's a hint. "Three words, eight letters."
If you can't remember, well shame on you, but luckily you can go watch Gossip Girl online at any time!
So who do you think had the more interesting reunion in the Gossip Girl season 2 premiere? Dan and Serena or Chuck and Blair?