Just whn we all thought Bluebell couldn't get more dramatic... I
On Hart of Dixie Season 3 Episode 13, Zoe's mother returned with an ulterior motive and Annabeth finally told Lavon how it really is.
In a surprise move, Tansy made the dumbest decision she has ever made. Yes, this one beat out marrying Wade and ending it with George.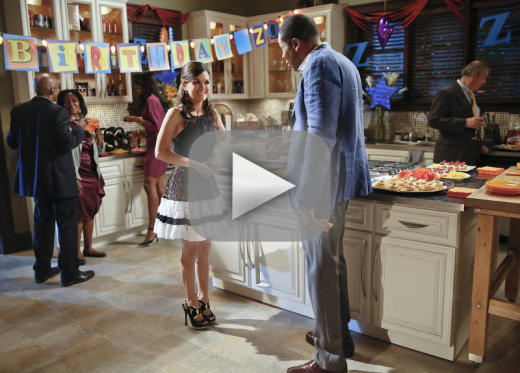 First, Crazy Earl wins the award for most adorable. Even with his alcohol issues (ahem, alcoholism), he managed to man up and be a dad that Wade would want to show off to Vivian... even if it happened after a drunken night of mumbling about how Zoe is the best for Wade. Not only is he charming, he's also a huge "Zade" shipper.
Romeo and Mrs. Romeo? I approve.
Crazy Earl is a way for the writers to show they know what the viewers want. Trust me, they get it.
Did anyone else predict that Zoe's plan to lie to her mom would blow up in her face? Has anyone else ever noticed that all of Zoe's plans blow up in her face? Really, she needs to channel her inner Lemon to pull of a lie.
Poor Joel, he was dragged into her awful plan and her mom gave him a piece of her mind. Bit don't blame Joel because Zoe wants to get away from her snooty mom. Also, you want to win? Lame. Find a better reason to be apart of daughter's life, not because you're competitive.
However, adding her mom will bring an interesting and new vibe to Bluebell. Drama, anyone?
Elsewhere, Lavon was off making the most delectable and exquisite breakfast of all time. I just wish that I could go over to his house every morning. At least there is one salvageable quality from Lavon in Hart of Dixie Season 3.
The best part of this installment was when Annabeth gave Lavon a piece of her mind, saying that she was just his dishrag that he used and that she was the best thing to ever happen to him. PREACH, SISTER! Truer words have not been spoken in Bluebell.
Finally, there was Tansy and George. The past few episode there has been a hint of reconciliation in the air and we all rejoiced! Then, just as we were about to celebrate with great jubilation, it ended. In what is seeming to be the most ridiculous plot twist in all of Hart of Dixie, Tansy chose Scooter over George.
REALLY!? I mean, really. What a disappointment. HUGE!
I hope that Tansy never comes back because she doesn't deserve George after that and he certainly deserves better. Lynly better not come back either. Dangit writers, I loved Tansy!!
Overall, I thought this episode was predictable, minus the Tansy part. I loved hearing Annabeth stick up for herself and for Cricket. Joel has my heart until the end of time and I do love Vivian and Wade together.
Now that Lemon's inevitable return is coming, things in Bluebell can only get better.
Who do you think Tansy should choose?