Hawaii Five-0 Review: A Father's Greatest Gift
Tiffany Vogt at . Updated at .
After a week off from Hawaii Five-0 Season 4 Episode 13, which was largely Chin-Ho centric, it is nice to be back to see what all our favorite Five-0 characters are up to this week in Hawaii Five-0 Season 4 Episode 14. Alas, all hell seemed to break loose and it was an incredibly tense and tear-jerking episode.
This week's theme was about a father's undying love for his daughter, and showcased the parallel stories of Danny and Grace against an escaped con and his estranged daughter.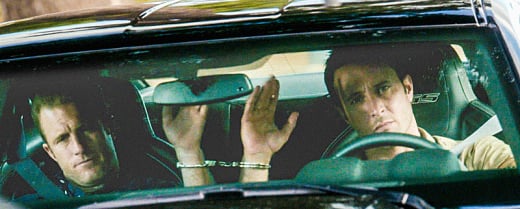 The lighter and funnier story, of course, was with Danny and Grace and about how she was suspended for hitting a boy at school so hard that he needed four stitches.  When asked if she had a good reason for striking the boy, Grace merely apologized and said she did not.  But when Danny asked her about it later, she admitted that she had hit him because he was bullying a friend of hers, but she did not want to say anything to the principal because she was "no rat." 
But peeved that Grace had made him look foolish before the principal for standing up for her believing that there had to be extenuating circumstances, Danny was unable to see past his own embarrassment and punished Grace by grounding her.  
If only the father-daughter drama could have ended there.  But, unfortunately, this week's case of the week involved a con who escaped to clear his name and prove to his own daughter that he was not the vicious crook she thought he was.  
In the parallel story, the prisoner's escape from the guards at the courthouse was hard enough to believe with so many police officers around, and the fact that he was able to get into Danny's car and get the jump on Steve and Danny seemed implausible.
But allowing a suspension of disbelief for this episode -- assuming a momentary lapse of police training and judgment and that Danny and Steve were ridiculously foolish enough to leave the car unlocked and not to check the back seat before getting in, and knowing full well that there was an escaped felon on the loose -- we got to see how that tense situation played out between Danny, Steve and Ray Parrish.  
By the way, special shout-out to Michael Madsen who gave a stellar performance as Ray Parish tonight.  He made the role both believable and chilling, then endearing as the kaleidoscope shifted and we saw Ray for the man he truly was.
The scenes with Parrish in the car as he plead his case to Steve and Danny was perfectly nuanced.  It began as terrifying and tense, then slightly puzzling, then almost with a feeling of warm camaraderie and understanding.  That shift in perspective and alliance was nicely done by all three characters and made the implausible story a bit more believable.  It was actually getting to be fun watching the three of them interact as they tried to think how Parrish was set-up and framed and how they were going to prove it.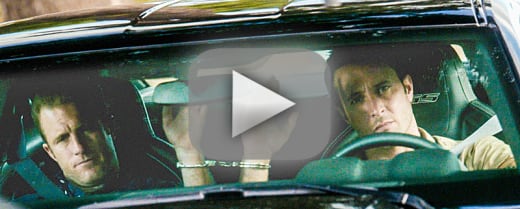 It was all that more sad when the local police finally caught up with them before they could work out Parrish's surrender.  It put Steve and Danny in a tough spot of having to outrun their own fellow police officers and make everyone wonder what the heck they were doing. 
It endangered lives and Parrish's own panicking nearly got someone shot before things were under control again.  It also meant that they were without back-up or vests when they reached the witness' house and they found themselves on the receiving end of a machine-gun blast of bullets.  No back-up and no vests.  What on earth were they thinking?!
Lady-luck was with them and the only casualties were the lying witness and the fake fed from the real estate scam.  But then everything unraveled further from there as Parrish escaped (again) and it led to another bad situation, where Parrish's daughter lured him unknowingly into a trap and he ended up shot.  Parrish got his final goodbye with his daughter, but did it really have to end in such a bloody, condemned fashion?
There was a glimmer of hope in this episode as we were led to believe that not only was Parrish innocent of the crime he had been convicted, but that there may be a way to prove it and it would give him a second chance of a life with his daughter.  Alas, that second chance was ripped away when he sustained two bullets in the chest.  The real culprit was caught and killed, but Parrish only got that last moment with his daughter before he passed away as well.
Was this the ending that Parrish truly deserved?  It seemed so bleak and heart-breaking after all they had gone through in those final hours to try to earn him a chance to prove his innocence and secure his freedom.  It was a cruel bait-and-switch method of storytelling.  To lure viewers into believing that a happy ending could be attained, only to rip it away at the last second.  Cruel.
But perhaps there was a second lesson to be learned from this story:  sometimes a second chance comes too late.  Life is fleeting and all it takes is one wrong choice to lose it.  Parrish's choices all led him to that final stand where he was shot protecting his daughter.  He gave up his second chance to save his daughter's life.
Parrish's name was ultimately cleared as his conviction was overturned and his name cleared.  But that is only some solace for his daughter who grieves for him and the life they missed out on together.  It was a nice touch that Kono returned Parrish's letters, so that his daughter could finally get to know the father that she barely knew.
It was a tragic end to the Parrish story.  Justice was served in the end, but even a reformed con cannot outrun fate forever.
The episode did end on a lighter note with the entire Five-0 team meeting up for drinks and Danny realizing that he had been too harsh in punishing Grace, brought her along.  It was also a nice touch when Danny apologized to Grace for grounding her and told her that he was proud of her for defending a friend and that he would love her no matter what.  It was a time for more tears, but this time, tears of joy. The crowning moment was when Steve told Danny at the bar, "She's a great kid" and Danny simply smiled and said with obvious pride, "She's got a mean right cross too."  Danny wears the proud papa look well.
One final note for the night is it was great to see the whole team working together and so efficiently.  It gave the sense that the Five-0 team has been working together for a long time and that they trust each other enough to know when something is wrong and when to back off when they need a little space to get a tricky situation under control.  But they never hesitated to have each others' backs when it counted and that love and trust really showed.
Re-writing fate is never wise, but thinking about it, would there have been another chance at a happily ever after if Parrish had survived on H5O?