On Here Comes Honey Boo Boo Season 3 Episode 8, the family focused on its potty mouth, putting together a swear jar and paying up every time they uttered a curse.
On Here Comes Honey Boo Boo Season 3 Episode 9, meanwhile, the focus was on another body part: Kaitlyn's  thumbs.
It's the little one's first birthday, meaning June has organized a party with games and activities and also that Alana is a bit jealous of the attention given to Kaitlyn.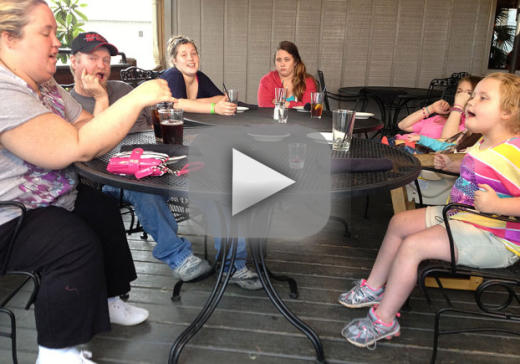 To her credit, June recognizes this issue and takes Alana out for yogurt.
It's during this date that we learn of the family's various medical maladies:
Mama has forklift foot.
Sugar Bear's heart is on the wrong side.
Uncle Poodle has nine toes.
And Kaitlyn's was born with two thumbs on one hand.
It's the final issue that comes into focus this week because Anna must decide of Kaitlyn should have one thumb removed. She's now old enough for the procedure.
June isn't for it, fearing that the operation could leave her grandchild without a functioning thumb and taping down that digit of the other girls so they could realize just how terrible that would be.
An appointment is then made with pediatric surgeon (a hot pediatric surgeon whom June refers to as "Fabio," we must add) and Anna expresses her fear that Kaitlyn will be mocked at school as she gets older unless one finger is removed.
Still, in the end, she decides to wait at least one year before going through with it.
It's a tough issue, it produced a lot of waterworks and - dare we say it? - it made us feel something for this family aside from shock or contempt. There's nothing to mock when a child's health is at risk.
Matt Richenthal is the Editor in Chief of TV Fanatic. Follow him on Twitter and on Google+.