Lost Girl got super freaky when Bo entered Dyson's memory and she envisioned their friends in his past.
With Dyson's life on the line, Bo decided that the only way to clear his name was to witness the truth from his memories. The experience ended up providing insight into who Dyson used to be.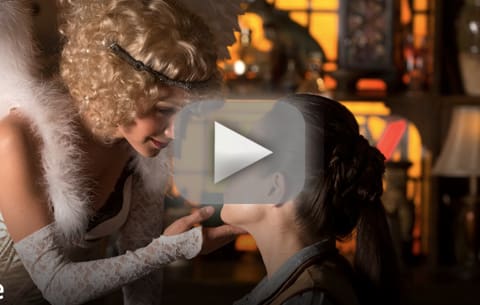 At the beginning of Lost Girl Season 4 Episode 7, the journey into Dyson's mind and his past was intriguing, but it quickly turned into something I wish I never saw. The sexual aspect of the episode played like what I'd expect to read in fan fiction and not on the show. The twisted threesome between Bo, Lauren and Dyson was unnecessary.
I would have preferred to see into Dyson's past without the crazy sexual aspect to it. In past episodes, sex never felt gratuitous, but either an expression of Bo's feelings for her partner or to satisfy her hunger. This was just overdone and unnecessary to the story.
The memory ended up being quite important for Bo and her quest to find out her true purpose. It was awfully convenient that Dyson was accused of killing the humans and that memory is key to Bo figuring out the truth. Or, it could be seen as fate. The shoes cost Flora her life, but they brought Dyson and Trick together.
That meeting and partnership ultimately lead to Bo finding this new family. She's gone from the "Lost Girl" to being the savior. Though, it appears that the Wanderer may have tried (succeeded?) in interfering with her destiny. If Bo truly is now Dark Fae and she isn't able to relinquish that alignment, then can she still be the savior?
Bo may not be any closer to finding the Wanderer, but at least she's closer to finding her calling. Team Bo now has a next move to make. They need to find Angel and find the other shoe. At some point, it seems likely the Wanderer will come and find her. With his arrival, Bo will get answers, unless Trick decides to come clean first.
Is Bo the savior?
Carla Day is a staff writer for TV Fanatic. Follow her on Twitter and on Google+.