Sometimes you need a head check. That could mean either to get your mind right or to literally check your head and hair.
Modern Family Season 5 Episode 15 showed us a little of both kinds of head checks. There were feuds, fear and worst of all...lice.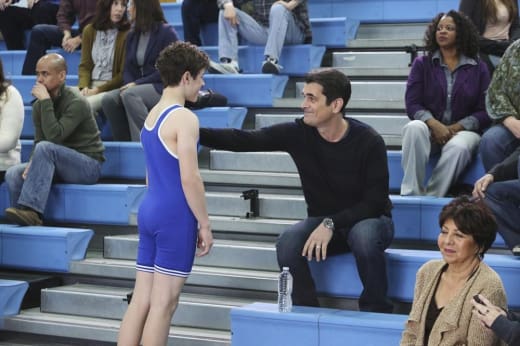 The second I heard that Lily's class had a lice outbreak, I got itchy. The lice outbreak of Woodglen's Elementary's fourth grade class might've been about 20 years ago but I will NEVER FORGET.
Watching Lily and Claire uncontrollably scratching their heads left me with an uncomfortable shudder. I felt Cam's pain as he tried to keep Lily at arms length!
Her head sounds like pop rocks.

Cam
Just how selfish were Mitchell and Cam to not warn Claire? I bet they felt really bad after Mitchell saw Claire almost rip her hair out in that important meeting! Then the guy hugged Claire goodbye.
I bet they felt especially bad after they didn't even get that director of photography to do their wedding. I love when Mitchell was like "you can find me at the Embassy Suites, see ya!"
Elsewhere, the other members of the family needed a different kind of head check. Haley and Alex were terrified of a possum. Actually, I don't know that much about possums so I would've probably hid too.
That part of the episode only got funny when Cam came downstairs to get the lice kit, Lily was in the ski mask and Claire showed up looking like she stuck a finger in an electrical socket.
Gloria tried to teach Manny a valuable lesson of not being embarrassed to be himself. However, I really don't know why Gloria would ever be embarrassed in front of those petty and pathetic moms. Has she seen them? And has she seen herself? Literally no contest.
If Sofia Vergara were a mother at my kid's school, my husband's jaw would definitely be on the floor.
Lastly, we had another cameo by Gil Thorpe! Sometimes he is really annoying but I actually found him pretty funny this week. He's such a pain in the ass but his dumb humor is sometimes right on key. I can't believe Gil's dad was Jay's nemesis. So that's where Kevin McCallister's dad has been hiding! 
Was it so evil of Jay to try and transfer Lily's lice to Gil at the end? Not going to lie, I was laughing. Vote below and then sound off in the comments.