I never would have guessed it was possible to kill three trained men within seconds using only  a shirt, bandana and two batteries.
That's how NCIS: Los Angeles Season 5 Episode 15 opened, which set the deadly tone for the hour. NCIS was on the hunt for the truth behind a diplomat's assassination at a Los Angeles Consulate.
The investigation took Sam and Callen to Mexico to revisit the first case they worked together.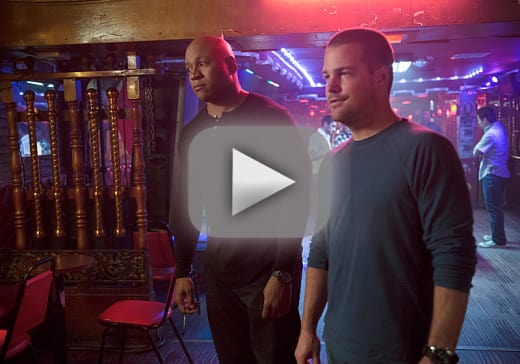 It's odd to think of a time when Sam and Callen couldn't anticipate each other's move. Seven years ago, Sam was "Teddy" and Callen was a weird operative with an initial for a first name. They didn't know each other, but had to work together without the implicit trust they grew to have.
When they walked into the hair salon, I found it difficult to believe the women would just accept the men back into their lives after disappearing for seven years. Were Sam and Callen that confident in their appeal that they didn't consider it was a set up? In the end, it didn't matter, but it was a dangerous risk to take.
The theme of the hour was about a person's tribe. Who do you trust? Tuhon recognized the lack of trust in the partners seven years before, but wasn't ready to acknowledge it was there for them yet. Tuhon was betrayed and feared both friends and enemies. He had a profound, yet sad philosophy, "A man with no friends doesn't have to worry about them turning into enemies."
Tuhon brought up Sam and Callen's past, but he also questioned their future. Who would take over when Hetty eventually leaves? Would it be Callen? Sam? Someone else? That didn't go over well when Lauren Hunter showed up. Could this have been foreshadowing the major cast member who's rumored to leave in NCIS: Los Angeles season 5?
Tuhon trusted Hetty and by extension Sam and Callen more than his own men. After an epic fight was fought in the bar, he headed to Los Angeles to finish the fight. When they arrived at the safe house, I fell for the trap. I should have known better, but Eric and Nell's concern fooled me.
It wasn't Tuhon and the NCIS agents who walked into the trap, instead it was Carter and his men. I should know by now a book is never just a book. Hetty left the freshly cleaned hachet in the book for Tuhon to use against Carter. With the doors locked, it was a blood bath. Only Tuhon, Sam and Callen were left untouched.
The assassin ruse failed and Tuhon was left to live out his days however many he has left. His involvement in the case left a mark on Hetty, Sam, Callen, and even Deeks. It was Tuhon who made the knife that Kensi got from her father. It was a reminder of the insular nature of the military intelligence arena.
The biggest takeaway I had from "Tuhon" was that the show is not the same when the Boathouse crew is separated. Sam and Callen make outstanding partners, but they aren't complete without Deeks and Kensi by their sides. The four of them with Hetty, Nell and Eric are a tribe and a special one. Their interactions and banter are what make NCIS: Los Angeles fun to watch.
With them working separately, the heart of the show was missing. They all need each other whether they recognize that or not. Nate is no replacement for Kensi, though it was nice to see him and his houndstooth suit.
While they were taking down a tribe of assassins, Kensi's life was potentially at risk when Sabatino confronted her about the investigation into his finances and the drone surveillance. He was adamant that he was not the White Ghost. And, Granger agreed. Is Kensi investigating the wrong person?
I don't think Sabatino is the White Ghost, but there's something wrong with him. He seems to have lost himself in his isolation and quest for answers. I hope that Kensi and Sabatino can find a way to work together, but only if he's stable enough to not endanger her. Otherwise, I'd love to see her NCIS: LA partners show up and provide assistance. She can trust them. They're her tribe after all.
Is Sabatino the White Ghost?
There were a few light-hearted moments.
In addition to Sam giving Callen a hard time about his date, Deeks had two hilarious lines in "Tuhon." He's never at a loss for humorous responses.
I mean everybody's got to go at some point, right? I just don't want my cause of death to be another man's underwear.

Deeks
You've heard of Obamacare? This is We-Don't-Care.

Deeks
Carla Day is a staff writer for TV Fanatic. Follow her on Twitter and on Google+.