New Girl Review: The Kansas City Shaker

Gabrielle Moss at . Updated at .
Since the dawn of time, mankind has struggled to answer one single question above all others:
Can exes ever really be friends?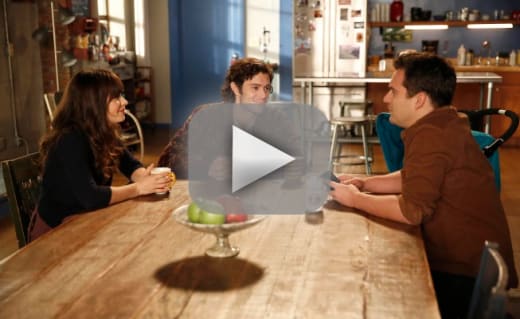 Just kidding: I'm sure at the dawn of time, people were much more concerned with figuring out what the sun was, or the temperature at which you needed to cook mastodon meat at in order to not die from eating it.
But the question of exes and friendship has preoccupied us for many of the post-mastodon years, and finally New Girl Season 3 Episode 15 came in with a definitive answer, in one of the best episodes of New Girl Season 3: no, no, absolutely not.
And if you have a happy new relationship, why would you even want to? Phew! What a weight off my shoulders! Now, I can finally go back to thinking about mastodon meat.
And some more happy news: after a sluggish start to the season, New Girl has been (very) slowly finding its way back to the sharp-but-goofy comedy that made New Girl Season 2 such a delight.
In this half hour, I think they finally made it home: the excellent New Girl quotes flew fast and furious, Schmidt was the Schmidt-iest he's been in months and the episode utilized techniques like flashbacks without becoming completely dependent on them.
But perhaps most importantly, this episode - along with New Girl Season 3 Episode 14 - proved that the show can squeeze comedy out of Jess and Nick's total and utter commitment to each other.
Which, when you think about it, is a pretty big deal; I'm hard-pressed to think of a sitcom with a couple on it that doesn't rely on some "will they or won't they?" tension to keep it spicy, or some marital disgust to keep things from being too mushy (Modern Family, I am looking HARD in your direction).
In fact, I was worried for a while that it might be an undoable feat - that this show had burnt itself out by getting Nick and Jess together too soon, and in that act doomed itself (instead of, you know, stringing us along for 10 agonizing seasons with the "will they or won't they" stuff like some friendly hit sitcoms that I could name ).
But New Girl did the undoable. It did so by facing down every single possible source of relationship tension in this episode, easily extinguishing all of them and showing itself to be perhaps the funniest show in recent memory about passionately committed monogamous love. You crazy kids/show! You're gonna make it after all!
But surely you've heard just about enough about successful relationships - after all, everyone knows that the failed ones are what's really interesting.
So, what do you think: Can exes ever really be friends?