Television legend Ralph Waite died yesterday at the age of 86.
And while the long-time actor will forever be remembered by many as the patriarch on The Waltons, he also enjoyed recurring roles on Bones, NCIS and Days of Our Lives in recent years.
Therefore, in the wake of his passing, representatives from all those programs have released statement in memory of the star.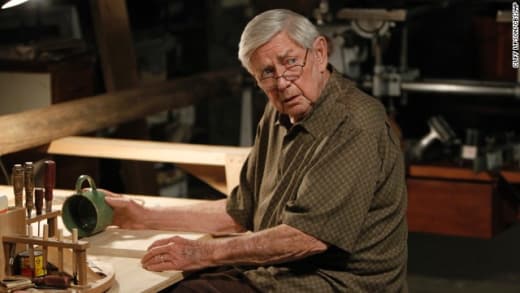 "Everyone at NCIS is deeply saddened by the passing of our friend and colleague Ralph Waite," Mark Harmon said. "Ralph was family to us, a tremendous talent and a very special man. We truly cherish the time we had with him. Our hearts and prayers go out to his loved ones."
Waite's final appearance on the drama was via an emotional NCIS Season 11 episode that aired in November and which explored the relationship between Gibbs and his dad.
"All of us at Bones mourn the loss of Ralph Waite," says series creator Hart Hanson. "We loved having him on set and in many ways his character was the moral center of our show as Booth's plainspoken, loving, war hero grandfather. The entire Bones family sends condolences to his family and loved ones."
Finally, a few Days of Our Lives cast members paid tribute to Waits on Twitter.
"#RIPRalphWaite. I was thinking of how wonderful you are today & hoped to give you a Valentine. Heaven just welcomed a selfless, kind heart," Jen Lilley posted, while Eric Martsolf added:
"Ralph Waite. Rest in peace and thank you sir."
Matt Richenthal is the Editor in Chief of TV Fanatic. Follow him on Twitter and on Google+.