They say the best things come to those who wait.
And, as Sister Wives Season 4 Episode 19 proved, this includes when a man wants to publicly commit to his multitude of better halves.
Indeed, following weeks worth of child illnesses, dress fighting and many other obstacles, Kody and company finally went through with their commitment ceremony on the Season 4 finale.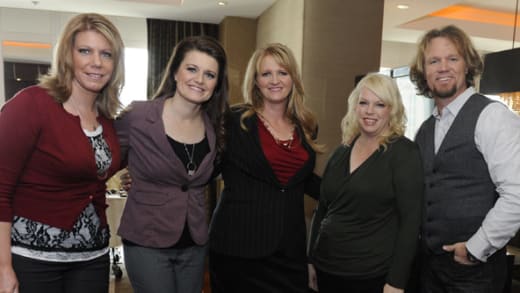 It included 22 members of the Brown family, along with many other friends and loved ones, and it had been in the works since this unit decided to move to the end of the cul-de-sac so all four wives could be close together.
With one groom, four brides, 17 children and 7,000 pieces of food, there were some bumps along the way. But the most welcome one involved Janelle losing so much weight that her dress had to be continually tailored.
But the actual ceremony went both smoothly and - dare we say it? - romantically. The quintet read the family's mission statement and then had everyone sign a framed copy.
They planted a tree and the teenagers then shocked their parents via a presentation that included all they appreciate about their elders. It was very sweet.
It was then time to party, of course, though the concluding message from the Browns was not about the Electric Slide or how to properly get low during a rendition of "Shout."
It was about how you always need to work at marriage and family and that it may not always come easily, but it's always worthwhile in the end.
Matt Richenthal is the Editor in Chief of TV Fanatic. Follow him on Twitter and on Google+.