Oh, Juan Pablo. You may have abs of steel. But it's your heart we worry about.
Let's hope it's also made from some strong material because the Bachelor was incredibly dumped for the SECOND time this season on a special Tuesday installment of the ABC series.
Following Renee's ousting on Monday, Andi, Clare and Nikki remained to battle it out for Juan Pablo's affections...
... but which of these ladies decided those affections were actually not worth the fight?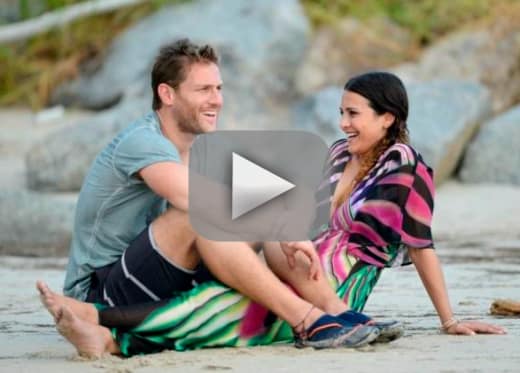 Andi and the Bachelor seemed to be doing fine in St. Lucia (who wouldn't be), as Juan Pablo played soccer and the burgeoning couple enjoyed some QT by a waterfall.
Enter talk of the Fantasy Suite and Andi's remark: "If this is a relationship that you think is serious, and I do, then I would definitely like to do this."
Some fantasy is turned how to be, however.
"Waking up this morning I could not wait to get out of the fantasy suite," Andi told the camera later. "The fantasy suite turned into a nightmare. I saw a side to him that I didn't really like. The whole night was a disaster."
What went down? Juan Pablo's reputation in the eyes of Andi after he "name-dropped," bragging about Clare and being altogether "inappropriate," according to scorned suitor.
Andi says Juan Pablo is "offensive" and has "no filter" and she told him all this the morning of the Rose Ceremony.
"I left behind family and friends and a job and I missed wedding," she said to the star, calling him out for never actually asking important questions. "When you say it's OK, that's not OK."
We then learn that Juan Pablo told Andi she "barely" made the Final 3, a remark he simply chalked up to be honest.
"He doesn't see it," she said in the limo. "It's not  a language barrier thing."
So… great news for Nikki and Clare, huh?!? Unless you agree that Juan Pablo is sort of an A-Hole.
"She's a lawyer," the Bachelor said of Andi. "I'm not going to argue with a lawyer. Honestly, putting words in my mouth it just killed it right there."
At least we're now down to our Top 2. Who do you hope wins, Nikki or Clare?
Matt Richenthal is the Editor in Chief of TV Fanatic. Follow him on Twitter and on Google+.