The Following Review: The Break-Up

Sean McKenna at . Updated at .
Lily and Joe bringing their family of killers together isn't quite like the Brady Bunch. Maybe, they just needed an Alice to make it all better.
The Following Season 2 Episode 6 was the extremely quick fallout after Joe and Lily's passionate one night stand of blood and sex. Turns out, bringing up kids and moving to a new home as the new dad wasn't quite what Joe had in mind. Lily's just a bit too clingy for him.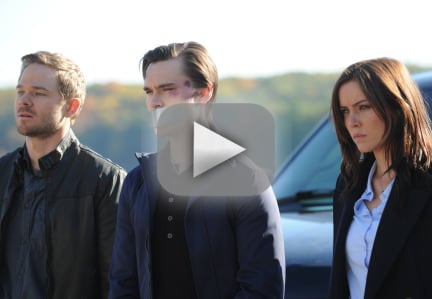 In fact, as much as I've appreciated the pace of the The Following Season 2, it still feels like we had no time to really explore this merging of powers. There was no chance to see their psycho attitudes combined for an even larger chaos then we might have seen on The Following Season 1.
Joe simply arrives, there's some chit chat... and then it all falls apart.
Sure, Ryan killing Gisele may have thrown an extra wrench into the situation, but even as this episode started going, it seemed pretty obvious that Joe wasn't interested in taking partnership, let alone following around someone else.
So, did Lily just want a father figure for her family that happened to be a killer and Joe fit the bill? Maybe she'll find someone else who loves her for her. I'm still trying to figure out her point beyond that.
At least she does bring a pretty scary and unstable edge to the show. Not to mention her "children" Mark and Luke are wackos that have had their fair share of scary screen time.
Perhaps I just wish Joe had a better team. Emma's always moping around and Mandy just wants a family (she also sort of tipped Lily off about Joe, so I wouldn't be surprised if she did it again.) He's clearly supposed to be the favorite of the bad guys, but I find it hard to see him beating Lily and her crew with his two followers.
Unfortunately for Lily, her team has been reduced to just her and Mark. Luke was not only stabbed, but he was shot and pummeled in the face by Mike.
And that brings up the third team of Ryan, Mike and Max: the "good guys."
Although, as much as we root for this trio, they aren't necessarily following the "rules" that Lily mocked them for. Ryan was pretty quick to dispatch of that one guy at the house without any real hesitation. Mike surprisingly stabbed Luke at the standoff and then later - as if out of nowhere - took everything out on the twin beating him to a bloody pulp. Something is not right with him.
Will we get a chance to explore that?
However, it's so good to see him finally ditch the FBI. I've been waiting for Mike to join forces with Ryan and leave the "law enforcement" in the background. And, really, I get the FBI has a mole, as the show so obviously tried to express was the reason for their being a step behind, but they still seem incompetent. I almost wish the show would just leave them behind.
It was interesting to see the episode essentially pit the various forces against each other. Everyone seems out to get everyone else. I've got a feeling there's going to be a last man standing in this battle royale.
But let's hope there's no more standoff trades again. As much as it was a very visually cool place to do the trade on the dam, it felt like it made no sense with everyone dropping their guns and making threats. And why did Lily and her boys not even try and get in the car? They didn't notice Mike had popped the tires, right?
It just felt a little silly with the game of "chicken," but I will say I was surprised at Mike's stabbing. I was not expecting that.
Overall, the running around was entertaining, and seeing Ryan and Joe have that look between them was great. And even though it felt rushed in breaking the family apart, I'm curious as to how Mark and Lily will handle not being pals with Joe anymore.
Guess we'll find out just what Lily is capable of now that both Ryan and Joe have crossed her. You know what they say, hell hath no fury like a woman scorned…
Who are you rooting for on The Following?
Sean McKenna was a TV Fanatic Staff Writer. He retired in May of 2017. Follow him on Twitter.