When we last left our favorite residents of New Orleans on The Originals Season 1 Episode 13, Rebekah was attacked by werewolves, Klaus was deeply daggered and Sophie was killed.
So no way could The Originals Season 1 Episode 14 possibly be any crazier, nuttier or holy-hell-did-that-really-just-happen... er, right?
Except: Holy Hell, did all that really just happen?!?
An incredible hour of television, "Long Way Back from Hell" was as focused and as revealing as any installment of this freshman drama to date. 
It told a simple story: Klaus and Rebekah were both held hostage by Genevieve and Celeste, with the former's mind connected to her brother's via her weakened state and some fancy witch spell.
As a result, anything Rebekah saw - via flashbacks to 1919 implanted by Genevieve - Klaus saw as well. And what they both witnessed was a treachery unlike any perpetrated by members of this family throughout their long, sordid, complicated history.
Which, when it comes to this family, says a whole lot.
In order to live freely and happily, Rebekah and Marcel used Genevieve. They forced a friendship, they had her conduct a spell to bring back the one person who could do away with Klaus forever (Daddy Not So Dearest) and, when Rebekah had second thoughts, she killed both Genevieve and her friend in an especially painful manner:
An outbreak of influenza that bled them dry little by little.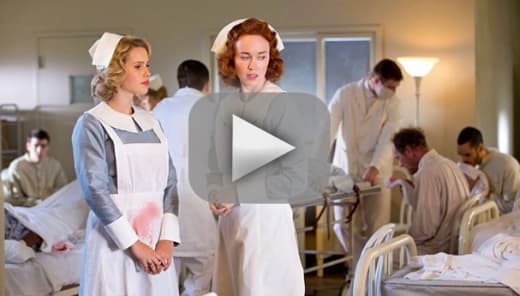 But this friend was actually Celeste in a former life and now she's brought Genevieve back for revenge, to alert Klaus to his sister's deception and to have him kill Rebekah once and for all.
It was a riveting episode, highlighted by performances by Claire Holt and Joseph Morgan and also by the construct that has worked so successfully throughout The Originals Season 1:
Forget spells. Forget enemies. Forget convoluted storylines or outside villains.
What has made The Originals such a powerful series has been its focus on the relationships of its main characters. Even here, when it seemed as if Celeste would serve as the season's first true Big Bad, she really just served as a conduit through which the Rebekah/Klaus connection was once again flipped upside down.
We all know that Klaus' biggest fear is that no one loves him. He lashes out and he takes control and he kills quite often... but it's all out of loneliness and a worry that he'll be betrayed by those closest to him because that's exactly what happened when his father learned of his son's hybrid nature.
And that's exactly what did happened almost a century ago.
Is it easy to see Rebekah's side back in the day, that she wanted to wake up everyday next to the man she loves without concern that her brother would intervene in the most violent way possible? Yes.
Is it easy to see Klaus' side nowadays, that his very own sister conceived a plot to kill him? Yes.
Two contrasting sides, two outstanding characters, two terrific performances and one hour told in a cool, trippy style that toggles between eras and states on mind? That's the recipe for a nearly perfect episode.
All that - and we saw Daniel Gillies shirtless! And Hayley got to get in on some action for a change. Take that, witch bitch!
And take this, TV Fanatics: Where could the family dynamic possibly go from here? Elijah has kept the peace, but for how long? And will he now experience Klaus' wrath for essentially taking Rebekah's side?
Another twist has been thrown into the mix, another layer has been added to the Mikaelson turmoil.
Ponder where things could go next as you watch the promo for The Originals Season 1 Episode 15:
Matt Richenthal is the Editor in Chief of TV Fanatic. Follow him on Twitter and on Google+.