Rust Cohle went undercover twice on True Detective Season 1 Episode 4.
First, he pretended to be Marty's friend. Then, he returned to his old life as fake member of a motorcycle gang called the Iron Crusaders.
The former was an example of how Rust cares about one thing and one thing only: the job. He's willing to lie to Marty, giving him hope that his marriage can be saved, just to ensure that his partner remains focused on the task at hand.
It's a deceptive, cruel move - but it's the way Rust has lived his life for years now, ever since his daughter's death. He doesn't think about the past, he doesn't dwell on the personal. He blocks it all out in out in order to be a detective.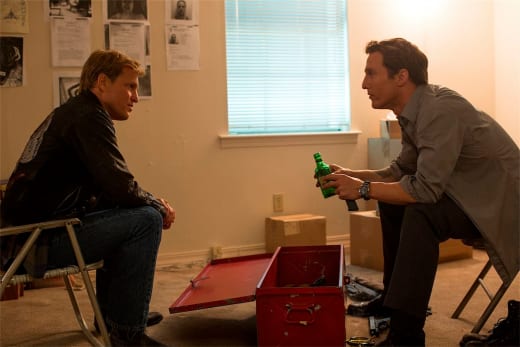 The latter development, meanwhile, marked the latest example of how this series cares a great deal more about its characters than its case.
Yes, Rust reunited with his former gang buddies because it would lead him to Reggie Ledoux. But there was very little plot movement here (Marty and Rust now have a helpful source hostage; that's about the extent of any advancement in the serial killer storyline) and a great deal of time spent on Rust giving us a look at the four years he spent with narcotics in Texas.
And what a harrowing look it was.
It's not difficult to see how such a job took its toll on the detective, leaving him dour, dark, a shell of a man, really. It was fascinating, disturbing stuff, watching Rust snort all those lines after his talk about face peeling and, well, testicle eating.
It was also the most exciting episode of the drama to date. Every moment of the stash house raid was riveting, with tracking shots used to follow the action and viewers left to wonder how Rust would get out alive.
Turns out, he can operate pretty darn well on cocaine, beer and adrenaline.
And while Rust was reliving his old life, Marty was watching his current life crumble. He pissed Lisa off to the point where she spilled their affair to Maggie, giving Woody Harrelson some great material with which to work (his call to his father-in-law, in particular) and giving us a tremendous scene between partners at a bar.
Yes, a bar, Marty. Not a bedside, as Rust reminded him while consistently saying Marty's personal life was none of his business. This, of course, was largely because Rust has no interest in being reminded of his own personal life.
"You're like the Michael Jordan of being a son of a bitch," Marty told Rust in maybe my favorite television quote of 2014.
Overall, one of the best aspects of True Detective is that I have no clue where it's going to end up. We didn't spend much time in 2012 this week, but we know a new serial killer is on the loose. Or that the old one was never actually found. And we know Marty and Rust had a major falling out.
But does anyone care much about Reggie Ledoux right now? The show has done a masterful job of using a sick serial killer as a mere backdrop. The investigation isn't anything special, but the dynamic between the leads and the dark looks we get at each man each week is what keeps bringing me back for more.
Matt Richenthal is the Editor in Chief of TV Fanatic. Follow him on Twitter and on Google+.