Twisted Review: A Night To Remember
Leigh Raines at . Updated at .
So nobody noticed that when Danny and the new kid shook hands they had on identical homemade bracelets? I call BS. 
Twisted Season 1 Episode 14 finally reunited Danny and his juvie buddy Charlie. Danny seemed freaked out to see him and unhappy he was there. I wonder why...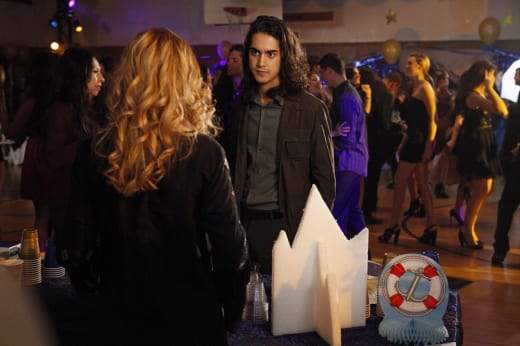 That wasn't sarcastic, I truly do wonder what kind of secrets Danny was keeping for Charlie back in prison. So far Charlie really hasn't done anything wrong. He asked for Danny's permission before he asked Lacey to homecoming. He made Jo laugh and we all know what a feat that is!
However, then I think back to Twisted Season 1 Episode 12 when Danny was on the lam and Lacey and Charlie first met.
Charlie kept making little digs about how "this Danny guy" seemed to be guilty and that word on the street was that he killed his aunt. Is it possible he knows the truth or does he really believe that? Either way, he seemed pretty eager to throw his so-called friend under the bus.
Despite the fact that suspicions have been erased since Danny was cleared in Regina's case, he isn't doing a great job at keeping himself innocent looking. I understand he is freaking out about what happened with Vikram, but that scene at the dance was really bad.
It's interesting to see the difference between Danny's behavior now and Danny's behavior when he was still "guilty" of killing Aunt Tara.
He's freaking out and he didn't even really kill Vikram, he just couldn't stop him from falling. Clearly, he's not a sociopath who feels no emotion at watching bad things happen to other people. I just wish Danny trusted Lacey enough to tell her. A relationship without trust is really no relationship at all.
Kyle, unfortunately, knows this all too well. I'm kind of glad Tess got caught because it made her explain why she knew he was alive and why she helped him hide it. Vikram thought someone was trying to kill him. So why would someone try to kill him? Maybe for a $10 million life insurance policy...
Karen was stupid to have told Jack that. I feel like she's had her guard up for so long that one guy she had a history with showed her attention and she caved. Interesting how the body was found just hours later.
Jack looks pretty suspicious to me, but then again wasn't he at the Desai house all night fixing the car? I did like the advice he gave to Danny later.
The past is like your road map. I mean knowing who you don't want to be, that's just as important as knowing who you are.

Jack
So who do you think is responsible for making Vikram's available to be found by the cops?
Somebody moved him from where he fell off the cliff. Vote below and then sound off in the comments!