American Idol Results: One Down, 11 to Go
Miranda Wicker at . Updated at .
Well, that's an interesting - and bearable - twist on the American Idol group sing. Tonight's results show opened with the Season 13 contestants singing Phil Phillip's "Home" into camcorders home-video style.
Oh, Phillip Phillips is performing tonight. That makes sense. Kodaline will also hit the stage.
And now it's time to send one of those contestants home. Whose home-themed performance didn't make the cut? Let's find out now...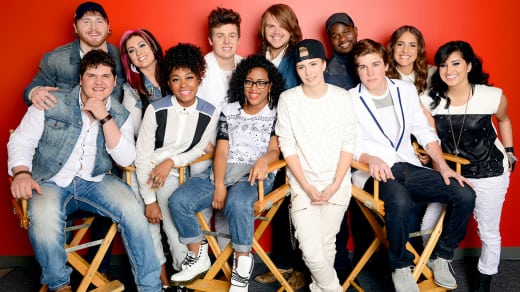 Randy and Harry bicker about why Harry sounds so harsh when he critiques the contestants after their performances. Randy thinks Harry has "indigestion" and that's making him cranky. Harry says he's going to find some way to help everyone improve after every performance because they're talented.
I, for one, am Team Harry in this conversation. If the contestants sing and never hear any sort of feedback that helps them get better--and there's always room to improve, particularly at this stage in the game--how is that a good thing? 
Emily Piriz, Jessica Meuse, Ben Briley, and Sam Woolf join Ryan on the stage to learn their fates first.
Emily's Latin-infused performance didn't get high marks from the judges and Jessica was sharp the entire time she performed. Ben garbled his words and shouted his song at the judges. Sam was great.
Emily Piriz is in the Bottom 3.
PHILLIP PHILLIPS IS BACK!! Next to Kelly, he's my favorite Idol. His single "Raging Fire" is great. He might be working on his second album and he might have toured with Matchbox 20 and John Mayer, but he's still Phillip Phillips, you know? 
Gah. I love him.
Jena Irene, Majesty Rose, Alex Preston, and Dexter Roberts make their way down from the lounge. 
No one topped Dexter's performance last night and Jena stepped out of her shell a little bit to the note that she needed to step out of her shell even more. Alex's vocals struggled on "I Don't Wanna Be" and Majesty's arrangement of "Fix You" wasn't the judges' favorite moment.
Jena Irene joins Emily on the stools. The other three are safe for another week.
Randy Jackson chose Kodaline to grace the Idol stage tonight and it's actually a really great choice to pair with Phillip Phillips. They're an Irish rock band with a Mumford and Sons-light sound. I like them. 
CJ Harris, Caleb Johnson, Malaya Watson, and MK Nobilette are the last group to find out whether they're staying or going.
CJ sang consistently sharp but Harry felt it. MK really does want to be here. Malaya impressed the judges with the toned down gospel number and Caleb rocked it out but is turning into a one-trick pony.
MK Nobilette​ hits the Bottom 3 for the second week in a row.
The judges' save is still in play. Emily Piriz​ will be singing for it. Unfortunately for her, it's not enough. The decision isn't unanimous which means she's leaving the competition.
What do you think, TV Fanatics? Did America get the vote right this week?
Miranda Wicker was a Staff Writer for TV Fanatic. She retired in 2017. Follow her on Twitter.