American Idol Review: Top 10 Since 2010
Miranda Wicker at . Updated at .
For the American Idol Season 13 contestants, selfies are apparently a really big deal. So is the fact that all of the remaining contestants are members of the Top 10 and will therefore be hitting the road this summer for the Idol tour.
Tonight, they'll sing Top 10 songs since 2010 in what will no doubt be an attempt to show themselves as contemporary artists.
What will the judges think of their performances? Let's find out now...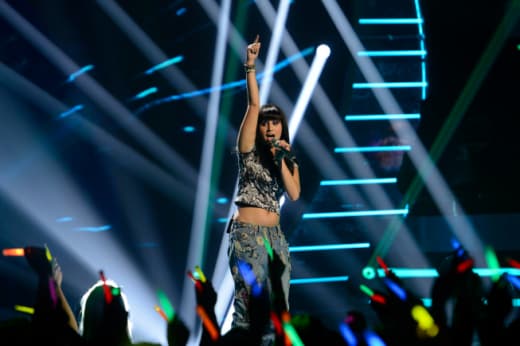 MK Nobillette​ is starting off the night. She's singing "Perfect" by Pink, which is a perfect song choice lyrically for her. She starts the song staring in a mirror which is a real neat way to start out and through the first verse there's a disconnect between her body language and her voice. Vocally she starts out flawlessly, which is what she does, but her body language is stilted. She warms up and gets into the performance and then flubs a lyric. Either she got emotional and forgot or she just forgot, but it was definitely noticeable.
Keith starts out the critique by complimenting her looks and acknowledging that she bobbled but pulled things back together and now needs to work on owning the stage. Jennifer called the beginning of her song emotionally powerful because she was connected into it but didn't recover from the flub. Harry didn't think it was a strong performance because he didn't think she conveyed the emotion she hoped. 3/5
In what might be one of the best song choices of the night if he can make the song his own, Dexter Roberts chose Florida Georgia Line's "Cruise." Randy worries he can't enunciate clearly enough for people to understand him. He slows the song's intro down and there's almost a Rascal Flatts vibe to his arrangement, but there's not enough enunciation. Once he picks up the tempo and the band comes in, Dexter becomes easier to understand, but the performance feels held back a little. He's another one who isn't comfortable working a stage.
Jennifer said the problem with singing a song like that one is that everyone knows it but called the performance good. Harry didn't think it was good at all because he didn't do anything to make himself bigger than the song. Keith thought it was a good song choice and that he was stylistically consistent. The beginning was his favorite part. 2.5/5
Jena Irene is tackling "Clarity" by Zedd, an electronica number, which is where Jena says her heart is. Jena has this amazing and unique voice. It might be one of my favorites in the competition. She got off to a teensy bit of a rough start but certainly had fun during the performance. It felt like the musical arrangement was missing some bass, but Jena doesn't seem out of place on the stage.
Harry thinks she's found her wheelhouse and say he's getting a clear idea of who she is. Keith loved it and called hers the best performance of the night so far. Jennifer called the song perfect and wished it could have been longer but tells Jena to "hold the middle" of the stage a little more. 4.5/5
I'm incredibly interested to see what Alex Preston will choose and what he'll do with it. "Story of My Life" by One Direction is a huge risk. If he sucks, 1D fans will eviscerate him. He gives it his acoustic guitar approach and I've instantly decided I like his version better than the original. If this hits iTunes I might have to download it. 
The audience is cheering so loudly Keith has to wait to start his critique. He says that we're seeing the artist in Alex and loved it. Jennifer loved it too and called the vocal beautiful. Alex "evokes greatness." Harry says Alex "hit the bullseye on the artistry target." 5/5
Malaya Watson picked "When I Was Your Man" by Bruno Mars. To try to control some of her erratic energy, Malaya starts the song on a stool beside the piano. If she stays there the whole time, she'll be golden. She has a beautifully restrained moment where she's building up into the bridge and immediately drops the emotionally level of the song back to the sadness being conveyed by the lyrics. This might be one of Malaya's best performances yet.
Jennifer said she was ready to hate on Malaya when she heard the song, but ended up with goosies. Harry liked how sincere she was about the lyrics and how present she was in the whole song. He wants her to learn to sing runs over the chords. 4.5/5
Rocker Caleb Johnson selected Lady Gaga's "The Edge of Glory." Since he had to choose from the Pop Top 10, he went with the most rock thing he could find. I expected this to be bizarre but it's actually sort of perfect for Caleb, even if it's a little too sleepy for me. It has some pretty great moments, and I definitely don't hate it. I don't love it either.
Harry called it "admirable" and liked the half-time tempo even if Caleb has had better performances. Keith didn't love the half-time and thought that Caleb's vocals outdid the band's musical backing. Jennifer says she's "between" the two guys. (Har har.) Jennifer liked the half-time but didn't feel like the performance had emotion. 3.5/5
The judges gave C.J. Harris a standing ovation last week and this week he chose "Invisible" by Hunter Hayes. He ditched the hat! Finally! He ditched it! C.J. HAS TO work on enunciation. He just has to. I'm reading the lyrics and these are beautiful but either this arrangement is weird or it's the fact that I can only understand every fourth word he says but this just isn't working.
Keith starts out by saying he's rooting for C.J. which means a but is coming. C.J. didn't stay in tune and Keith tells him to work on it. Jennifer says they're all rooting for him and calls him a quiet killer. His heart is in it, but he falls apart at performances. Harry said he felt the lyrics, but C.J. has to work on singing in tune. 2/5
Jessica Meuse is singing "Pumped Up Kicks." This ought to be interesting. From the very first words out of her mouth, which aren't intelligible, the performance is off. The band joins in on the chorus and things get better. Either she can suddenly hear herself or the song just makes more sense with a band behind it or both, but it definitely got better.
Jennifer was really happy with her performance. Harry disagreed with Jennifer because the smile on Jessica's face betrayed her lyrics. Her performances are one-dimensional and she doesn't emote. Keith liked that she made it her own and gave it a 60's-pop vibe. 3/5
Majesty Rose, who nearly went home last week, is back with "Wake Me Up" by Avicii. She picked up her guitar again and looks amazing. She also sounds amazing. She gives the song a slight country bent which makes it interesting. It's really great and another performance I would download if I could.
Harry loved it and called Majesty really smart. Keith didn't love it. He loves Majesty and her voice but didn't love the performance and the song and her folk interpretation. Jennifer saw fear in Majesty and tells her she can't let that happen when she performs. 4/5
Closing out the night, Sam Woolf, also in the bottom 3 last week, is singing "We Are Young." He begins almost a cappella with just a strum of the guitar to set the key and then comes in with the guitar and the band and the entire performance takes up from there. Sam's got his own vocal style that has hints of Jason Mraz in this performance. This kid needs to play the guitar every week. Don't ever put it down again, Sam. This was a great way to close the show.
Keith knows Sam will be back next week. Jennifer does too. Harry tells him he still has to lose his timidity. And that's all the critique he gets because we're out of time. 5/5
Tonight was sort of interesting. It's hard, hard, SUPER HARD to sing hot, huge pop numbers on the Idol stage particularly when several of those songs are still getting a decent amount of airtime on the radio. SUPER HARD.
Some of the contestants did better with the challenge than others. Namely Alex Preston, Sam Woolf, Majesty Rose, Jena Irene, and Malaya Watson.
They're the Top 5 for the night, leaving the remaining 5 in the bottom. If we have to further distinguish top and bottom performers, Alex, Sam, and Jena take my personal top spots leaving Malaya and Majesty in the middle of the pack.
Joining them there in the middle are Caleb Johnson, MK Nobilette, and Dexter Roberts. All three of them had weird issues with their performances tonight, none which are worthy of being sent home for but which are continually plaguing, particularly for MK and Dexter.
My bottom of the pack tonight goes to Jessica Meuse ​and C.J. Harris. C.J. came off a great week last week, but could definitely find himself in trouble tomorrow night. Though I want her safe, MK could also find herself back in the bottom 3 both because of her flub and because she went first. It's never good to go first.
Tomorrow 10 will become 9 and we'll be one week closer to the American Idol Season 13 winner.
Which of tonight's Top 10 did you think had the best performance?
Miranda Wicker was a Staff Writer for TV Fanatic. She retired in 2017. Follow her on Twitter.