Archer Review: Story Time at Tunt Mansion
Robin Harry at .
The past two episodes of Archer have given us some of the best hijinks we've seen all season.  
Not only were the adventures in Colombia a lot of fun, they were also sharply written and gave us some great insights into these characters.
So I was sorely disappointed when Archer Season 5 Episode 9 took us back to the Tunt Mansion.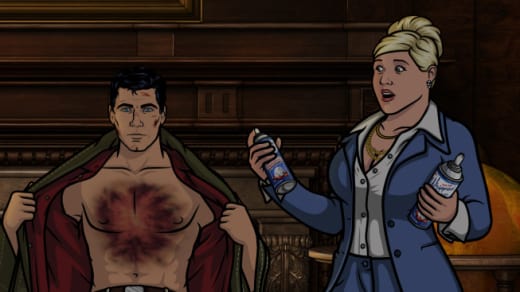 The frame story in television isn't always a good idea. It can be a great device (How I Met Your Mother and the Sherlock wedding episode are good examples), but to be effective, the frame story itself should contribute to the broader picture other than just being a convenient story-telling device.  
We need unreliable narrators, foreshadowing, anachronisms, character reactions etc. to make a frame story interesting and worthwhile.
This week's Archer used the frame story to tell what happened after Archer, Ray and Cyril left Colombia in a stolen plane full of money, with the three guys back at the mansion recounting the story to the rest of the group. Sadly, I didn't enjoy it all that much.
There were some good things about the episode. Angry Malory is a pretty scary Malory, and I'd dare say that this was one of Jessica Walter's best episodes.
What we did get of Team Archer's adventures leaving Colombia and flying to Florida was enjoyable. It was funny how adamant Archer was about not landing in the Everglades (alligator territory), even though he'd just made it through a river of crocodiles in Colombia.
Cyril continued to be the weakest link in the team out in the field and Archer's improvisation (this time as Rando) continued to be the best asset they had. 
However, apart from the fantastic work by Jessica Walter and what little field work we saw, I found the rest of the half hour to be mediocre. There was some good banter, but I don't think anything really justified the use of the frame story. I would have preferred to have seen more of what happened out there rather than sit through the exposition at the Tunt mansion.  
The guest voices were fantastic, but woefully underutilized. Christian Slater as "Slater" was fun, but even better was Fred Armisen as Gustavo Calderon, the leader of San Marcos. I sincerely hope Armisen returns, assuming that the gang is going to have to deal with all the weapons that were on their way to San Marcos. 
It didn't help that I'm still not a fan of Cherlene. I found her presence at this episode unnecessary and intensely irritating. What was the point of her sitting around with whipped cocaine on her breasts - fanservice? We've seen Lana's barely-covered bust plenty of times, but it's always part of the joke.  Cherlene's nudity just seemed gratuitous.
As it stands now, the gang has no more cocaine. However, they've now gone from being a drug cartel to arms dealers, having intercepted an CIA anti-communist drugs-for-arms deal. I wonder how Pam's going to deal with the withdrawal...
That's it, folks. I found this episode disappointing. As fun as the debut (and demise) of the Red Kriegtober was, it would have been much more interesting to see how Archer and the gang got from Florida to New York with a plane full of weapons.
What did you think?  Did you like the story-telling, or did you want more field work?
OTHER NOTES:
Has Archer's alias always been named Randy? I honestly can't remember.
I personally prefer "The Red OctKrieger."
We still don't know how they got the cocaine in the first place. I still think it's Malory, though.