A child being kidnapped outside of her school had Danny remembering a similar case from seven years ago on Blue Bloods Season 4 Episode 15.
If Danny's own memories of failing to find Allie weren't enough, he had to contend with Allie's dad showing up and still holding out hope that his daughter would be found.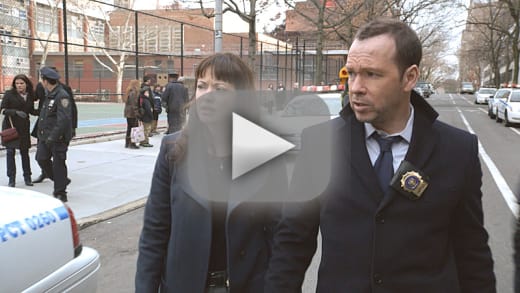 I give the actor who played Joseph credit. Even as he thought and acted rationally he always had that haunted, half-crazed look in his eyes. It was the look of someone who'd been forced to walk through a living nightmare for seven years.
I loved the Reagan family dinner as Danny changed his mind about allowing his young son to go off with friends overnight to see a basketball game in Philadelphia. It's a scary world and although some might consider it an overreaction I respected Danny for canceling the trip because he didn't know the other parent well enough. 
Of course the kids had a different take on it but as Jamie pointed out in this Blue Bloods quote…
Jamie: Some times people don't appreciate the way you try to keep them safe.
Henry: Until something goes wrong.
When Erin came home to find Nicky with a boy in her room I was very surprised that she didn't have a discussion with her daughter as soon as Ben left. I found it very odd that Nicky was the one who prompted the conversation some days later. 
However, once they finally started talking I did agree with most of what Erin said. She can't control what Nicky chooses to do but she can try and guide her in the right direction and set boundaries for proper behavior in their home. 
Erin's case of the week wasn't all that interesting. The psychiatric expert was a pompous ass and it was good to see Erin put him in his place. 
Frank's story line was fascinating, I only wish we could have found out more about the International Liaison Program but then the need for secrecy was the point of the story. 
I love that the NYPD is the only police department in the country that has its own international intelligence gather operation.
As Frank pointed out…
Being safe can cost you something but it beats the hell out of the alternative.

Frank
As someone who spends time in NYC and was in the area during 9/11, I agree that the alternative is terrifying. I appreciated Kelly wanting to make sure there were checks and balances for the program but I was equally happy to know that Frank would go to jail to protect it.  
But the one light hearted moment of the night came from Garrett who offered to get Frank a disguise to avoid a possible subpoena…
I'd buy you a fake mustache and glasses but you've got that covered.

Garrett
Small moments like that remind me why Blue Bloods is one of the best ensembles on TV.
Now it's your turn, TV Fanatics. Do you think Danny was right to cancel his son's trip?
C. Orlando is a TV Fanatic Staff Writer. Follow her on Twitter.