Jamie Reagan finally got a story line on Blue Bloods Season 4 Episode 16.
But it left us with more questions than answers concerning his character.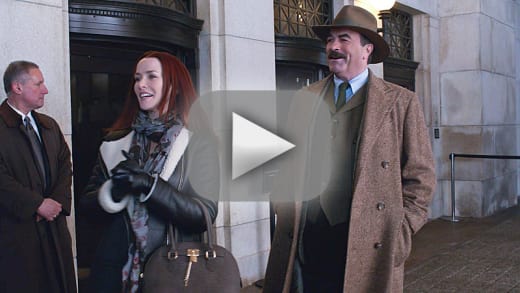 I've lamented most of this season that Jamie hasn't gotten enough screen time. In "Insult to Injury" his story took a turn I wasn't quite expecting. 
Jamie seemed even more excited to track down Mia when he figured out she was a criminal than when he thought she wanted a date. Is he becoming bored being in uniform? That sounded like what he was saying to his partner in this Blue Bloods quote…
I'm just getting tired of everyone else solving the puzzle. The most we get to do is take it out of the box and put a few of the edge pieces together.

Jamie
Jamie was so gung ho to solve a case that he almost walked into his own undercover operation with Mia and no back up. Thankfully he thought the better of it. There were so many ways that could have gone wrong but at least it brought on one of my favorite moments of the episode.
If Jamie was about to play Mia's boyfriend then she needed to know some pertinent information like where he grew up, what his parents did for a living and what was his favorite position. 
Your feet spread apart, hands on the hood.

Jamie
It's the Jamie Reagan version of dirty talk. 
Jamie's been on patrol for four years and perhaps he's getting restless for a new challenge but I wonder if being a detective is really for him. Not that he couldn't do the job well but Jamie seems more suited to being on the street and helping people face to face, not just solving the crime after the fact. 
Danny's secret caller turned into an all day investigation as he tried to track down Jill before she hurt herself or someone else.
For as much as everyone seemed to doubt Danny's ability to talk down the suicidal woman, he may have been the perfect person for her to speak with. Danny both understood the pain of losing a loved one and refused to give up. 
I almost couldn't blame Jill for wanting to kill Decker. Hearing a drunk laugh after he's killed your parents would drive anyone over the edge. 
Frank went on a field trip but what I found most interesting was how much he didn't want to go. 
Joyce's daughter, Daisy couldn't have been any cuter and I liked that Frank got to talk about the NYPD's most famous Police Commissioner, Teddy Roosevelt. Also, Frank's description of Joyce was most apt…
Linda: So Frank, how was Joyce?
Frank: Seldom right but never uncertain.
I also appreciated how all of the adults in the family made certain that all of the kids, even Nicky knew that certain language was unacceptable, even if the word wasn't said at the dinner table. 
It's what makes Blue Bloods so special.
So, what do you think TV Fanatics, should Jamie stay in uniform or become a detective?
C. Orlando is a TV Fanatic Staff Writer. Follow her on Twitter.