I don't even know where to begin. My stomach was in a knot for the entirety of Castle Season 6 Episode 17. It was the most intense installment of the series. 
Because the thought that kept running through my head was this: Kate has to make it out. She's marrying Castle. 
It was nice to know that that was the same thought running through Kate Beckett's mind as well, even if she did share it with a sense of humor as she muttered into her mic in this Castle quote...
Capt. Fowler if you can hear me this is seriously interfering with my dinner plans.

Beckett
When Beckett left the loft, I knew there was no way she was making it back for dinner and that's where the sense of foreboding began: with Rick playing video games, blissfully clueless as to what his fiancee was about to encounter.
I really appreciated that once again Gates was behind her team. She told Kate that if she wanted to back out, she could walk out the door and Gates would take the heat for it. The Captain proved once what a fantastic leader she has become at the 12th. 
The elevator ride was tense, but I never expected it to lead to Beckett being thrown into the back of a truck where her listening device wouldn't work. I still don't know how she got that off of her jacket in time. I suppose desperation can lead to creativity, but the slow ascension of that bug monitor had me holding my breath. 
Stana Katic hit the perfect balance, playing Beckett as both the controlled cop determined to find Lazarus and the panicked fiancee desperate to make her way home.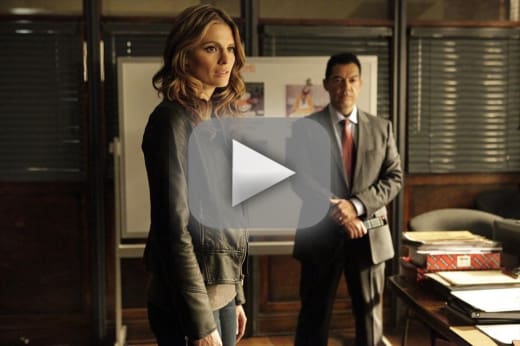 But for all of the tension filled moments, the best came when Kate wrote that letter to Rick. With only moments to spare, she took the time to write how much he's meant to her and ingeniously made sure, with her own blood, that someone would find it if she did not survive. 
I need you to know that our partnership, our relationship is the greatest thing that has ever happened to me. You are an amazing man and I love you with all of my heart. Always.

Beckett
It was beautifully romantic, heartbreakingly sad and tension-filled all at once. 
Beckett's "assassination" was a bloody mess, or should I say a ketchupy one. But if anyone could keep her head and pull that off it would be Beckett. She was simply determined to do whatever it took to survive. Thankfully, she found a way to do that without shooting an innocent man. 
Just when I thought she was going to make her way out of this ordeal, they lead her into the basement and kudos to the Castle creative team. The walk down those dimly lit steps and around those turns made me as anxious as any horror movie. 
Watching all of those women locked away in that counting room - with millions upon millions of dollars - spoke of the vastness of this operation and just how far down the rabbit hole Kate had fallen. 
Unfortunately, there was a familiar face at the bottom.
I recognized the voice before I saw his face and in an hour full of shocking, riveting moments, this one took the prize.  I never expected to find Vulcan Simmons at the bottom of that dungeon but I had no doubt that he'd recognize Kate.
What man forgets a woman who tries to put him through a wall? 
The torture scene was reminiscent of Javi and Kevin being drowned in ice water in "Knockdown" and I appreciated the symmetry. However, the shot of Kate with her eyes wide open, unmoving with her face in the water made me wonder how close to death they would take her.
When Simmons sent Harden out to kill Beckett, I had little doubt she'd find a way to get the upper hand on him. What I never expected was to see Elena Markov save the day but when she told Beckett...
He sent me because he owed you. He wanted you to live.

Elena Markov
I knew exactly who sent that message.
Back at the loft, poor Castle was left in the dark with no one returning his calls. He knew something was terribly, terribly wrong. Once again, I was happy with Gates for taking him aside and telling him the truth herself. 
I could practically feel Rick's heart constrict as he sat at Beckett's desk with no leads and nothing to do but stare at her chair and contemplate what life would be like if she didn't make it back.
With Beckett home at last, I was looking forward to a romantic reunion - but Senator Bracken ruined the moment without even being there. Watching him announce his Presidential campaign twisted my stomach once again because it meant diving back down the rabbit hole. 
Perhaps this time will be different. For one thing, Castle and Beckett are together. They trust one another and are there for one another in a way they never have been before. In large part that's the reason Beckett survived and I was grateful that she was able to express that to Castle.
Castle: See what happens when I leave you alone.
Beckett: Babe, I wasn't alone. When they were interrogating me, the only thing that kept me going was thinking about you. About our future, the wedding. You were with me the whole time.
Will Senator Bracken put that future in jeopardy? We'll all just have to hold our breaths, wait and see.
Now it's your turn, TV Fanatics. Were you happy to see Senator Bracken's story line continue?
C. Orlando is a TV Fanatic Staff Writer. Follow her on Twitter.