On Chicago Fire Season 2 Episode 15, Jones made her presence known at 51.
Sadly, first impressions are not her strong suit.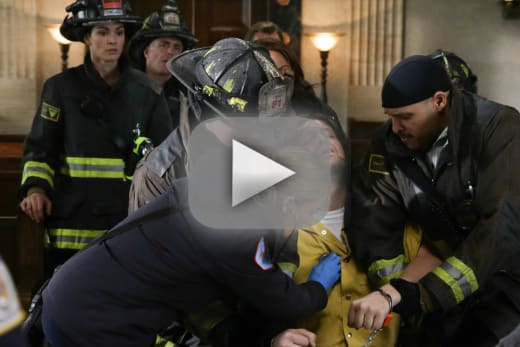 Jones wants to be one of the guys and I can understand her reasoning for doing so. She wants to be treated just like everyone else and she doesn't want gender to play a part in it.
However, Jones is not a firefighter yet. She needs to work her way up to getting to that level. Right now, she's in a student-teacher dynamic with the firehouse. She's there to learn as much as she can.
Cracking jokes is one thing, and, in moderation, it's acceptable behavior. But there's an old guard to firefighting; candidates need to go through the motions and the mind games before joining the club. It is one part initiation, one part mental and physical dexterity the job requires - and a splash of hazing.
In comparison to Mills, Jones is off the charts. Mills made mistakes, but he mostly kept his head down, so far Jones is blowing him out of the water.
Jones' behavior, therefore, ends up rubbing everyone the wrong way. She's interested in having the title of a firefighter, but the massive chip on her shoulder from her family issues makes her more individualistic and competitive than it does team-focused.
Her family's clout in the departments gives me pause as we see she's not above using it with Connie to get Mouch's couch back.
Casey is willing to give her a fair shake and Dawson mostly keeps her nose out of it until Jones gives Dawson a verbal licking over things that never happen. Maybe she's playing Dawson to secure herself a position somewhere, but the more information Dawson feeds Casey about the Jones the greater the chance that something he shouldn't be privy to comes out.
Jones' treatment in the firehouse does begin to construct some potential parallels with Gabi if she does end up becoming a firefighter.
Doing her candidacy at 51 brings about a potential conflict of interest with Casey and her treatment as a female candidate in a different house could bring about worse treatment.
Elsewhere, the other big story was Severide getting together a potential hit squad to take care of Keeler.
I'm of the opinion this is another fake out. Severide and the others were on the job when Keeler goes missing, so it makes Benny's and his short appearance the most likely suspect. Severide gave Benny hell for always missing out and making excuses for why he never shows up when people need him, and taking care of Keeler might be his way of caring for his daughter.
One final note: Casey's behavior.
Since his trip to the doctor and confession to Dawson, his behavior in this installment was downright normal. He wanted to give everyone a fair shake, he didn't give Jones a lot of flack even after Dawson tells him the facts and he offered encouragement when he sees she needs it.
Maybe his behavior will change again, but, for now, it's great to see him slip back in the role that defines so much of his character.
Did Benny take care of Keeler?