Chicago Fire Review: Navigating Red Tape
Nick McHatton at . Updated at .
Bye bye, Keeler. 
Just like that, Benny Severide (sort of) confessed to making sure Keeler ended up with the fishes on Chicago Fire Season 2 Episode 16.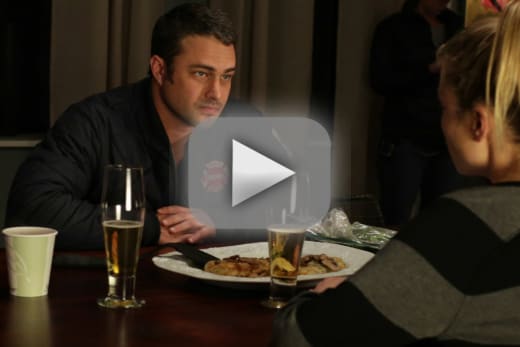 What's interesting is Benny's confession to Voight is almost meaningless. Maybe one day Voight will collect on the favor, but in that moment he does not look like a man looking for a favor down the line.
Voight and Benny are talking as fathers and Voight would easily do the same thing for his own children.  
Instead, all Voight wants is for Benny to make sure he's out of Chicago for a little while. It's good advice, as Benny is becoming more distraught about his actions as the episode moves on. 
Jones' father is also ready to see that his daughter is getting a move on out of firefighting and behind a desk. It's understandable he wants to keep his child safe and out of harm's way.
As Jones' shows in the stairwell, she's not impervious to trouble. She lacks the experience necessary to tackle these types of situations, so her danger levels only increase. 
With all this talk about Jones' safety, it will be a shock if she even makes it to the end of the season. Jones is an abrasive character who doesn't really fit in with the rest of the firehouse, but I would rather she get disqualified then potentially getting killed. 
Dawson and Shay's rodeo with the gunshot victim was very intense, but thanks to their eye in the sky, they're able to get out of there relatively unharmed. Sadly, that's not where it all ends, as Victor "Eye in the Sky" Ramsey looks like he just stepped out of his stalking 101 class.
The awkward hugging, knowing when she's back on the Ambo, leading her to safety...they all scream that he watches her way too much.
Hermann's quest to surprise his wife on their anniversary with his news of a vasectomy. There's almost no words to his complete insistence that his wife is going to like his announcement. I was with the rest of the firehouse: she's going to rake him over the coals for news like that.
Yet, after remember than Hermann has five kids, her reactions is probably the greatest news she's ever heard. Congratualtions Hermann you're really do know your wife!
Is Jones going to die?