Criminal Minds Review: Jerk Walk and the Bite Brigade

doug@mediavine.com at . Updated at .
What a wildly entertaining hour of television.
On Criminal Minds Season 9 Episode 18 the BAU was called in to investigate when Milwaukee police recovered the partially buried (and bitten) bodies of three single people. They had all died of rabies, as the team later found out.
This bizarre case became even more surreal when medical examiners confirmed that the victims had bitten each other, thereby infecting them with the disease.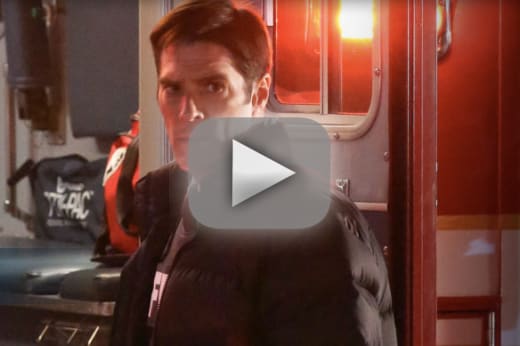 It feels like we're back to the traditional Criminal Minds fare, where the Unsub is an unrelatable psychopath with uniquely twisted needs and desires. I feel certain his motive and trigger would not have been predictable without the investigation and explanation provided by the BAU.
This is not a bad thing - these types of macabre and horrific stories have been to a large extent missing in recent episodes. 
Once we found out what the Unsub (Cunningham) was doing, I wondered if they would show one victim infecting another. And, sure enough, we witnessed the Unsub securing his latest victim (Russell Holmes) and then releasing an infected victim at him.
Like any truly compelling thriller, they didn't need to actually show Foley biting Holmes. The writers thankfully allowed us the horror of our own imaginations. 
I have no idea whether rabies victim actually go that mad and say things like:
I'll eat you. I'll eat your face off. I'll eat you alive.

Liz Foley
Sometimes it's fun to fact-check some of the plot material around such behaviors. I didn't this time because it didn't matter. The rabid stay-at-home mom was morbid and vicious and that was all we needed to know.
I mean, can you imagine being tied up and having that scuttling towards you in the dark?
The biggest - and welcome - surprise was realizing that between Holmes getting bitten and Morgan and Reid rescuing him, 24 hours had not yet passed. This means he received the rabies vaccine in time, as evidenced by his assurance that the doctors said he would be okay.
The other more personal story about Reid and Garcia was just about as entertaining too. It was fun to watch Morgan put the two unsuspecting friends through their PT paces before letting the cat out of the bag.
Final thoughts:
There were a few more flirtatious comments between Garcia and Morgan this time, but no play-by-play stuff. It was mostly off-the-cuff. That seems in keeping with their characters without going slightly overboard as they used to do. I like that.
Reid gave us quite an extensive education about rabies. Check out our Criminal Mind quotes for the one where he explains all you'll ever need to know about the disease.
We learned something new about Rossi too. Being bitten by a rabid fox, and having to shoot it three times before it let go, must have been quite an ordeal for him.
Best two words or the episode (or maybe one, if it's hyphenated):  jerk walk.
What, if anything, did you like most about this episode?
Douglas Wolfe was a staff writer for TV Fanatic. He retired in 2016. Follow him on Twitter
.