Gibson proved just how well he has planned his mission, while remaining resilient when necessary on Crisis Season 1 Episode 3.
As smart as Gibson has been with the kidnapping, Dunn and Finley have stayed right on his trail. It's a wonder if they even sleep. This dynamic duo from the FBI and Secret Service has followed the tiniest of clues and turned them into major leads.
They've been a step behind since the beginning, but have quickly caught up.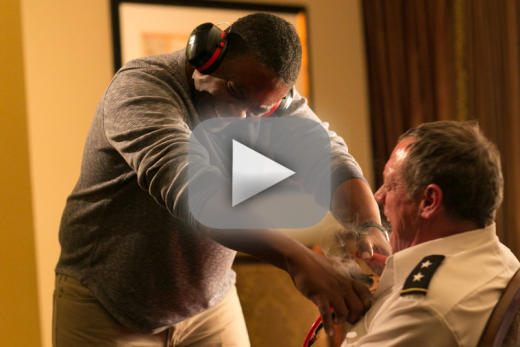 The meeting between the agents and the President was surprising cordial and encouraging. Neither the President nor the First Lady held their son's kidnapping against Finley. Instead, they praised him for saving Anton and being back on the job even though he was just shot.
This President was incredibly steady given the circumstances. He held his emotions in check and was resolved to protect his position and country first even if that meant his son would be killed. Wow. I guess we'll see if he remained steadfast if he's faced with making a choice. And, it could always be the First Lady who gets the call.
Was the President in office during Operation Lennox? That will likely determine how he fits into the overall plan, if at all. We know Gibson wants to be proclaimed a hero by the President, so maybe he won't play a larger role in the plan.
Gibson may not have used the President, but he did get into the White House. He had to move away from a manila envelope with a disposable phone for this one. Instead, he used top secret information to call into the White House Chief of Staff's security line to talk to Frank Beckwith. This was an integral step in Gibson's plan.
Using Beckwith, Gibson was able to get to General Mark Osborne. The second parent was tortured for three weeks as a prisoner of war. Gibson forced him to torture Osborne without any clue about the reason or what was being said. It didn't take long for the General to cave and provide Gibson with the location of video proof of Operation Lennox.
Good thing enemies of the country didn't get a hold of him, though I guess we still don't know Gibson's end game. It could be a danger to national security, but it seems more likely each week that even though Gibson's means are certainly wrong, he has good intentions for what he's doing.
General Osborne ended up dead, but he killed himself. That was further proof that Operation Lennox is something absolutely horrific. The General preferred dying to facing a military tribunal and his family learning the truth. While he died, the two kids were returned to their parents.
Now that the investigators know the kidnapper is targeting the parents, will they get a jump on him? There are a lot of parents to watch, plus the parents have three examples of teens being returned. That's an incentive to do whatever is asked of them. So far no one has turned down their assignment. Who will be the first? And will their child be killed?
Next up ... Getting into CIA Vault 48. Two more parents will be targeted. The stakes continue to be raised and I'm excited to see what happens next. I'd love to see Gibson and his mission continue to be humanized, while the FBI stays close on his trail. At this point, either side or perhaps even both could end up victorious at the end.
Should Kyle be an active hostage?
Carla Day is a staff writer for TV Fanatic. Follow her on Twitter and on Google+.