As Judith Ryland said, "Trust Me" is for children and as a woman who had her own son drug her and lock her away, she should know.
When Harris threatened to do the same to daughter Emma, she turned the table on dear old dad and set Judith free. Now the Ryland matriarch is doing lines of cocaine with cartel drug lords. 
Back at South Fork on Dallas Season 3 Episode 2, a Ewing barbecue was in full swing with Nicolas Trevino as a guest. In a quiet moment, Carmen told the man she raised as one of her own that she wouldn't sit idly by if he dragged her children to the dark side. In the meantime, Elena was stealing information from Bobby's own computer in the hopes of taking down the Ewings.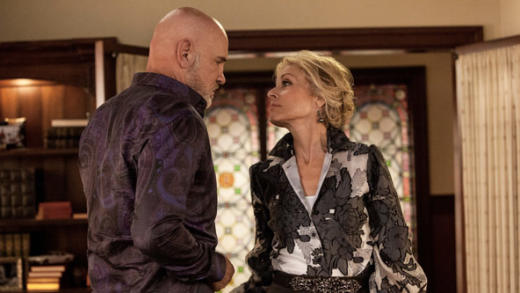 Sue Ellen worried that her son was following in his father's footsteps a little too closely as she asked Baum to get photos of her son and anyone other than his wife. Baum got the pictures of John Ross and Emma but instead of handing them off to Sue Ellen, he gave them to John Ross with a word of advice. Follow in your father's greatness, not his weakness.
And Bobby and Ann got the shock of their lives when they were abducted but the CIA. Why? Because Harris Ryland is working for the organization.
Whether you missed a minute or just want to see it again, you can watch Dallas online here at TV Fanatic.
C. Orlando is a TV Fanatic Staff Writer. Follow her on Twitter.