John Black returned to Days of our Lives once again. Will he stick around this time and will he ever make the time to see his wife?
Perhaps I'm wrong. It's only been one episode. John made a bee line for Brady and tracked down Hope, but Marlena seemed to be last on his list. That's pretty sad.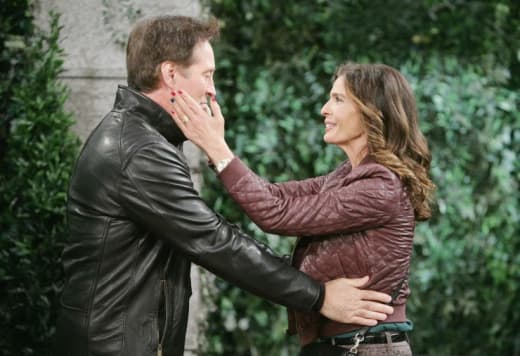 John and Marlena have been one of Salem's core couples for years. Their separation has not endeared Marlena to fans. Without John to balance her out and very few scenes with Will since he came out of the closet, most of Marlena's interactions make her look cold and judgmental. 
So how will she react when she finally stumbles over her long lost husband? I can't even imagine. 
John's reunion with Brady didn't change anything. Brady's still angry and John still appears stoic. And at least we now know who's been following Brady.
I've just been looking for the right time to try and approach you but you've been either smashed or angry or both.

John Black
That about covers it. 
Speaking of estranged couples, Bo sent Hope a letter. Sigh. I know Peter Reckell left the show but it doesn't make watching this storyline play out any easier. 
Bo is working deep undercover to take down some global crime syndicate and he doesn't expect to be home for another year. No wonder Ciara is such a mess. She certainly doesn't rank very high on Daddy's list of priorities. 
This gives Ciara even more of a reason to act like a spoiled brat and Hope more of a reason to look for comfort elsewhere. 
Right now I'm not all that fond of Aidan but it wouldn't surprise me if he begins to win me over given time. In true soap fashion, I expect to start to root for them as a couple about the time the show decides to bring back Bo, whether it be Peter Reckell or a recast. I just can't see them abandoning that pairing forever. 
So what did you think, TV Fanatics, were you happy to see John Black return to Salem?
C. Orlando is a TV Fanatic Staff Writer. Follow her on Twitter.