On this week's Days of Our Lives Daniel and Jennifer threw the dinner party from hell while Brady and Teresa's romp on the sofa was interrupted.
Our TV Fanatic Christine Orlando is joined by Dana from MyHourglass a Days of Our Lives Fan Forum to discuss Abby's non-pregnancy, Maggie's tough love, and whether to have dinner with Dannifer
------------------------------------------------------ 
What did you think about Maggie's tough love approach with Brady?
Dana:  She had every right to tell him how she feels. I don't think it helped the situation. I think he is going to hit rock bottom before he listens to anyone. I think Maggie's comments about Teresa made him feel even worse. In his mind Maggie said that a woman would only want him for his money.
Christine:  Considering she just walked in to find him having sex on her sofa, I think she was spot on and I agree with her assessment of Teresa. A "lower companion" is an interesting way to put it. But Dana's right, the only thing that Brady took away from that warning was that he's not good enough.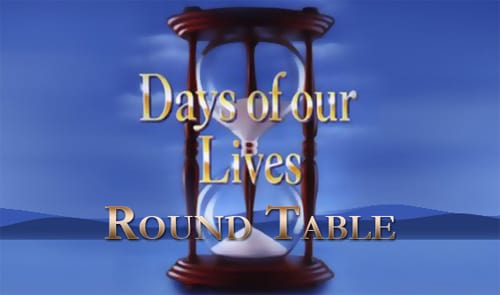 Is Nick right? Is he the smartest man in Salem and who if anyone would you like to see take him down?
Dana:  I think when it comes to IQ scores Nick is the smartest person in Salem. Is he the smartest when it comes to blackmail and schemes? Probably not. I don't want him taken down yet. He livens up the rest of the 20something group.
Christine:  He certainly thinks he is and I just can''t wait for someone to take him down and wipe that smug look right off his face. I'm rooting for it to be Sonny with Victor's backing but at this point, anyone who can send Nick packing is tops in my book.
Would you have wanted to be a guest at Jennifer and Daniel's dinner party?
Dana:  Definitely not. All of those feuding guests would make me uncomfortable. I did enjoy Rory delivering the pizzas.
Christine:  I think it could have been fun to get a glass of wine with Nicole (and hope she didn't spill it on me) then sit back and watch the carnage unfold. Although if Jennifer would have tried to start those party games again I'd be headed for the door. 
So there will be no EJAbby baby. Are you disappointed?
Dana:  I'm not disappointed. I'm also not convinced that she isn't pregnant. The doctor calling Stefano makes me very suspicious.
Christine: I'm going with she's not pregnant but that Stefano now knows EJ's dirty little secret. A Horton/Dimera baby could have been great fun but considering Gabi just had a surprise pregnancy last year, I'm glad they didn't go their with Abby.
What was your favorite scene or story line of the week?
Dana:  My favorite scene was Sami and Lucas reminiscing as they looked through pictures. I enjoyed them talking about not being able to imagine their lives without each others friendship. It felt like a love letter to the Lumi fans.
Christine:  I have to agree with Dana. Sami and Lucas looking at those photos was a wonderful way to remember their history and what they've meant to one another. There have been times when Lucas has been Sami's only friend. That scene was a sweet reminder of all the roads they've taken over the years. 
C. Orlando is a TV Fanatic Staff Writer. Follow her on Twitter.